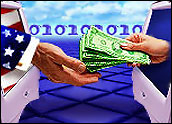 Last-minute panic drove millions of taxpayers onto the Web this year, driving traffic to several sites that process tax returns. And despite the massive spike in visitor numbers, top sites performed well, delivering pages in a timely fashion and staying available almost around the clock.
"It appears everyone was very well prepared," said John Lovett, a senior performance analyst at Gomez, Inc., which tracked a group of top tax sites in the two weeks leading up to April 15th and again during crunch-time on the 15th. "There were no dramatic failures and no significant outages."
Red-Letter Day
In fact, across the industry, average response time during the pre-deadline period was 2.86 seconds, and sites were available 99.8 percent of the time, according to the Gomez data.
On the 15th, response time actually improved, with tax sites averaging 1.95 seconds. Availability slipped to 99.2 percent, but Lovett told the E-Commerce Times that this drop was attributable in part to last-minute maintenance performed by some sites before the final rush began.
"As a whole, they were pretty well prepared," he said. "We know a lot of sites were doing capacity and stress testing. Most site managers are now pretty savvy about what to expect and planning for that worst-case scenario."
Growing Popularity
TaxAct president Lance Dunn said his company planned for and courted visitors to its site by offering a free software download. The program was aimed at helping reluctant taxpayers feel more comfortable about preparing their taxes themselves and filing online.
"No one wants to risk a big software investment," Dunn told the E-Commerce Times. And the company's move may have paid off: TaxAct saw the biggest year-over-year percentage gains in traffic of any tax site, posting 75 percent growth to 2.05 million users in February, according to Nielsen//NetRatings data.
Welcome Aboard
Overall, according to Nielsen//NetRatings, online tax preparation sites attracted 22 million Internet users — about 17 percent of the active Web population — in February, a 15 percent increase over a year ago.
The Internal Revenue Service (IRS) clocked the biggest gain, with a 25 percent increase in traffic. TurboTax.com ranked second with a 20 percent increase, drawing 6.8 million visitors. HRBlock.com attracted about 3 million people, and TaxAct.com drew 2 million. TaxCut.com, which is also owned by H&R Block, had 1.7 million visitors in February.
Nielsen//NetRatings senior Internet analyst Patrick Thomas told the E-Commerce Times that most gains seem to be coming mainly from middle-class consumers, many of whom have not used the Web extensively in the past. Therefore, he said, smart financial services firms will capitalize on this opportunity, using the tax-filing experience as a gateway to offer additional online products and services.
In fact, the chance to attract new clients is one of the main reasons why 17 online providers linked with the IRS through the Free File Alliance, which enables taxpayers to file at no charge.
On Hold at IRS
On the big day itself, there was a wide disparity in response times among various sites. TaxCut.com loaded in .69 seconds, while TurboTax, the slowest of the six sites measured by Gomez, took nearly 3.5 seconds to appear.
And some sites sagged under the weight of heavy traffic more than others. At one point late on April 14th, according to Lovett, IRS.gov took nearly 9 seconds to load a requested page. The crunch came late in the workday, suggesting that employees were finalizing their tax preparations before heading home for the day.
Meanwhile, the IRS said it exceeded its own goal of 2 million online tax returns, 10 percent more than last year. And unlike in other instances, when slow response times can prompt a surfer to go elsewhere, the IRS has something of a captive audience.
"If you need that schedule B and you need it right away, you're going to wait, no matter how long the page takes to load," Lovett said.