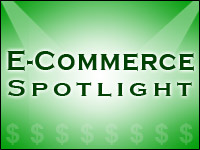 Look for an overall bigger holiday spending pie with e-commerce grabbing a bigger slice. ComScore has forecast that Internet retailers will enjoy an 11-percent gain over last year's holiday billing. The firm expects e-commerce spending to total US$32.4 billion during the November-through-December period, much stronger than 2009's 4 percent increase.
In the early days of the holiday season, comScore is already posting a 13 percent increase, with $9.01 billion spent online from November 1- 21 versus $7.95 billion during the same period last year.
The growth is a combination of a slightly stronger economy and great prices online.
"E-commerce continues to take share of retail dollars from brick-and-mortar," Andrew Lipsman, senior director, industry analysis at comScore, told the E-Commerce Times. "What's driving the increase is, in part, an improved economic environment versus last year — that along with the pricing power and efficiency that e-commerce provides consumers."
Black Friday Will Tell the Story
E-commerce tracker eMarketer is also predicting a robust holiday season online.
"It's very early. The holiday season is just getting started. We're forecasting 14.3 growth in e-commerce," Jeffrey Grau, principal analyst at eMarketer, told the E-Commerce Times. "What that means is year-over-year people continue to shift more of their total gift budget to the Internet. Certainly, e-commerce is taking a bigger chunk out of the spending pie. That's why e-commerce holiday sales are growing much faster than total retail sales."
This week, highlighted by Black Friday, will reveal much more about holiday e-commerce.
"Sales are off to a good start, but the bulk is yet to come. There will be a lot in the next week," said Grau. "I've seen the MasterCard Advisors report online sales are double-digit growth."
E-commerce itself continues to grow, as Internet shopping has become part of most American consumers' lives.
"One thing we're seeing is a continuing maturing of the e-commerce model," Charles King, principal analyst at Pund-IT, told the E-Commerce Times. "The fact of it is, consumers in the United States have access to computers and the Internet. It doesn't beat out shopping at malls or big box stores, but it keeps growing right along."
Free Shipping Matters
ComScore cites free shipping as one of the "more prominent promotions" for online purchases. Seventy-seven percent of online consumers indicated free shipping was important. In the third quarter of this year, consumers indicated 41 percent of their purchases included free shipping.
Last week, Best Buy announced it would comp shipping on hundreds of product categories, such as CDs and DVDs, during the holiday shopping season. Countless other online retailers are joining in.
While the economy is expanding slightly, unemployment is still high and money is scarce, so consumers are still cautious.
"The free shipping is always a bonus, especially when money is tight," said King. "Consumers are getting creative. They want a high-dollar item that won't have a stiff shipping fee. Getting the shipping free makes sense."
Free shipping has almost become expected by many consumers.
"Certainly, free shipping makes e-commerce more appealing," said Grau. "A lot of people won't buy from a website if there isn't some sort of free shipping. It's almost a requirement."
Plenty of Reasons to Shop Online
In addition to free shipping, bargains are drawing consumers online.
"Even though the economy is better off now than a year ago, people are watching how they spend their money," said Grau, "and the Internet is ideally suited to compare prices and find deals."
Online shopping also means no traffic jams, no scrambling for a decent parking spot — and you can do it while sipping hot chocolate.
"People are going online because they're less wiling to stand at the store at 5:00 in the morning in the cold," said Grau. "Plus, they find products online they don't find in the store."