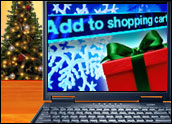 This year's holiday shopping season is poised to break e-commerce records as consumers accelerate their spending online. More consumers are very likely to purchase their holiday gifts online (58 percent) than at brick-and-mortar stores (41 percent) this year, according to Channel Advisor's 2010 Consumer Shopping Habits Survey. And more than 46 percent of North American retailers expect double-digit online revenue growth this holiday season, says eMarketer.
The revenue potential from online shopping continues to expand: Consumers spent US$29.1 billion online during the 2009 holiday shopping season according to comScore.
E-commerce spending will reach $51.4 billion in the fourth quarter of 2010, eMarketer predicts.
With statistics this powerful, online revenue potential has nowhere to go but up. Internet retailers must seize this opportunity, especially during the holiday season, in order to meet — and hopefully exceed — their goals.
Make It Relevant
Enticing shoppers to visit your online store is only the beginning. Many retailers are not focusing on how to close the sale once customers are in the virtual door, missing out on tremendous revenue growth. The solution: Create a more relevant, personal and fulfilling online shopping experience that truly engages consumers during the holiday shopping rush and encourages them to make a purchase.
Boost your e-commerce sales during the prime holiday shopping season by making sure your website adheres to these 10 rules:
Keep it fresh. Static websites don't perform as well as dynamic ones, especially during the holiday shopping season. Keep updating content and presentation to entice shoppers to spend more.
Test, test and test again. Live multivariate testing and iterative tweaking drive higher conversion rates. Even subtle changes such as font size, color and language can have a huge impact on revenues. Continually test different variations to see what yields the best results.
Get in the holiday spirit. Customize websites with a festive look and feel, clearly displaying the items most likely to sell during the holiday season on the most popular pages.
Personalize promotional messaging. Prominently display product offers, discounts and promotions personalized to match customers' individual needs. Website personalization gives them the best site experience by making sure everything they as an individual want to buy is easily located in a single virtual aisle.
Up-sell and cross-sell. Make the right recommendations to consumers at the right stage of the buying process to maximize revenues. Go beyond the "people who bought this, also bought this" suggestions by making it relevant to the individual shopper.
Make it easy to buy. If the registration, login and checkout processes are difficult, most shoppers will simply give up and buy from a competitor. Thoroughly test and improve all forms.
Monitor customer behavior. A one-size-fits-all website won't deliver a best-performing visitor experience. Use visitor information and behavioral targeting for different audiences by adapting the content and items on display according to visitors' known preferences.
Make navigation easy. If shoppers are bounced around a poorly designed website, they won't fill up their shopping cart or get anywhere near the checkout line. Get the navigation basics right — include a search facility, make the checkout page prominent, and make it easy for customers to jump between pages without wiping forms clean every time.
Get ready for the January sales. Many consumers are now spending just as much money in the New Year as they are in the pre-holiday rush. Hit the ground running in January with fresh content and product offers to stand out from the crowd.
Keep them coming back for more. Incentivize shoppers to keep returning for more with direct-to-consumer offers and relevant products based on their buying history, and remember to use live testing to help determine which offers have the most positive impact on sales.
Year-Round Strategy
The holiday revenue opportunity is evident, yet many are still missing the mark. Retailers need to continuously monitor and learn from customers' online activity and preferences. Multivariate testing technology now allows brands to try out thousands of slightly different variations in a live environment to see which speaks to their consumers and yields the best results.
By taking this approach, retailers can continually deliver a better, more personal, online experience — offering customers page layouts, sequences, content and promotions that have been dynamically put together based on users' demonstrated preferences, and driving increased conversion and higher revenue throughout the year, not just around the holidays.
Don't miss out on this lucrative opportunity. Prime your e-commerce channels to take full advantage of the current holiday shopping rush and convert website traffic into valuable online revenue.
---
Mark Simpson
is founder and president of
Maxymiser
.