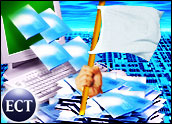 E-mail marketing remains one of the most cost-effective ways to deliverlong-term profitability for the online channel, but its existence could beat risk if the flood of spam is not brought under control.
Executives at the eTail2003 conference in Boston, say permission marketing via e-mail almost always provides easy-to-measure results, positive ROI and greater customer satisfaction and loyalty. However, those results could start to fade if spam continues to clog e-mail inboxes.
"Spam's certainly been a hot topic," Yesmail account executive Sheehan Murphy told the E-Commerce Times. "Some of our customers are worried at first about being lumped in [with spammers], but they also know that people have asked to get these e-mails, they want to receive these offers. It's entirely up to the client how they run their campaign. Once they hear that, they feel morecomfortable."
Warning Signs
However, despite the range of benefits of e-mail, spam is starting to createproblems just as e-mail marketing is being refined to open up new possibilities, according to Bluefly CEO Ken Seif.
For example, Bluefly, an e-tail site, has all but abandoned attempts to use offline ads to drive Web traffic, turning instead to campaigns that use portals and opt-in e-mail marketing. However, Seif said: "Spam definitely changes the landscape. E-mail is going to have to shift from a marketing to a servicemedium. The ones that do that will survive, and the ones that don't will be left behind."
Filter Pack
CheetahMail vice president Vince Beese told the E-Commerce Times that many businesses still see the value of e-mail marketing and depend on companies like his to cut through the growing amount of red tape put in place by ISPs, which are trying to reduce the amount of spam that reaches their customers.
"There is a constant refinement that has to happen," Beese said."Companies need to make sure their e-mails aren't being bounced or blockedand that they stay on the white lists of the ISPs. We help them steer clearof that kind of trouble."
It is also important to keep refining e-mail campaigns, said CheetahMailCEO Irene Pedraza, who at the conference presented a case study of her company's work with catalog giant Spiegel, which leverages all of the information in itscustomer database to create complex and timely offers.
Keep Moving
John Vassos, general manager of Hudson's Bay Co., the largest retail chain in Canada, said e-mail response rates for his company remain very high. The company uses e-mail to present its 8 million registered customers with offers that are not available in stores.
Vassos noted that recent campaigns have included an offer of bonus points on store customer affinity cards for regular buyers of cosmetics if they made an apparel purchase. Another offer, a sneak preview of a line of doll accessories, wasmailed only to customers who had bought the doll.
Although companies like CheetahMail and Yesmail offer a slew of analyticaltools to go along with their services, Vassos said it is important to avoidwhat he calls paralysis by analysis.
"You've got to get out there and do it," he said. "We start our campaignsand at the same time let the analysis start working in the background. Youdon't want to get stuck not taking action because you're waiting to seewhat the numbers say."
Two-Way Street
The continued viability of e-mail marketing might even have an indirect effect on other forms of customer contact. For example, eBay vice president Lorna Borenstein said the success of direct customer contact via e-mail drove the auction giant to implement a real-time chat support feature. That feature, which lets members of the eBay community get answers to their questions from eBay's own experts, paid off immediately, she added.
Certain customers are invited to take part in the chat, which Borensteinsaid has produced a favorable return on investment "from day one" when bothshort- and long-term benefits are considered.
In fact, eBay had the chat feature up and running just 34 days after the idea wasgiven approval. "We thought we'd never try live chat or phone support, but now we're realizing we can take another look at how we communicate directly with our customers and how we enable them to talk back to us," Borenstein said.
Of course, customers will respond favorably only if they feel solicited rather than spammed. Striking the right balance in e-mail marketing is a difficult and delicate task — but if a company can do it well, it can reap significant rewards.