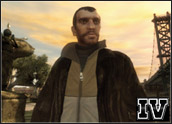 Michael Hollick isn't really a Balkan criminal — he just plays one in a video game that happens to be one of the fastest-selling ever, generating at least US$600 million in sales over the last three weeks.
Yet while Rockstar Games' "Grand Theft Auto IV" has enjoyed its wild success, Hollick — an actor who plays Niko Bellic in the game — hasn't benefited from the extra sales. He was paid just $100,000 over 15 months or so between late 2006 and early 2008 for providing Bellic's voice and body-motion work, but that was it — no royalties or residuals were built into his contract.
That, he told The New York Times, is a problem.
Record-Setting Release
"Grand Theft Auto IV" was released April 29, and 3.6 million units — worth about $310 million — sold that same day. Indeed, the game's first-week performance was the largest launch in the history of the video-game sector, according to Take-Two Interactive Software, Rockstar's parent company.
In addition to the many gamers who know it so well, Hollick's voice has also been heard in ads by tens of millions of people, and his character has been spoofed on "Saturday Night Live."
For performers in TV shows, movies, radio shows and most other traditional recorded performances, royalties and residuals would have been a matter of course, likely earning them millions in a situation of comparable success.
However, for those in Hollick's shoes — performing in electronic media like video games — no provisions are made beyond the standard Screen Actors Guild day rate they were originally paid.
Contract Details
Hollick reportedly does not blame the makers of the game for the discrepancy. Rather, he blames SAG for failing to put the necessary agreements in place to protect its members, many of whom believe equal work should earn equal pay, whatever medium it appears in.
SAG, the nation's largest union for working actors, says it represents nearly 120,000 actors who work in motion pictures, television, commercials and industrials — as well as video games, Internet and all new media formats.
"The current performer rates under the SAG Interactive Agreement, covering video games, were established in the 2005 Interactive Agreement negotiations," Mark Friedlander, national director of new media for SAG, told the E-Commerce Times. "This is a separately negotiated contract between Screen Actors Guild and the video game publishers."
The scale minimum rates of initial compensation for actors in video games under this agreement are in "close parity with that of performer compensation in television, theatrical motion pictures and commercials," Friedlander added. "However, performers who have negotiated to work at over scale rates, in general, are compensated far less than performers working under other SAG agreements covering traditional media."
Rockstar Games and Take-Two Interactive did not respond to requests for comment.
'Windfall Profits'
Responding to Hollick's charges, Friedlander is supportive.
"New media is an incredibly fast-growing segment of the entertainment business," he said. "Actors, whose talents help propel windfall profits from the sales of these games and new media properties, should share in that success."
The issue of pay for new media work is expected to dominate negotiations between Hollywood studios and SAG this summer, creating the potential for an actors' strike similar to the one by writers last year.
In the meantime, "SAG will continue to study the new media marketplace and prepare creative solutions that will help actors to enhance their partnerships with new media producers in this ever-changing business," Friedlander said.
Deja Vu All Over Again
"With the evolving nature of actors' roles extending into the cyber and other realms, there is a clear need for actors to realize that their talents may be leveraged," Raymond Van Dyke, a technology attorney in Washington, told the E-Commerce Times.
Indeed, years ago writers with The New York Times challenged provisions regarding the extension of their works into databases, Van Dyke noted.
"As with the NYT writers, the actors need to understand the full nature of how their talents are being deployed," he explained. "Companies likewise should take measures to be sure that there are few misunderstandings."
Of course, Van Dyke added, "the actors may not have as much power over the situation as they would like."