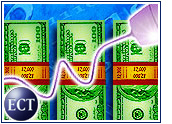 GoTo.com (Nasdaq: GOTO) rose 19 U.S. cents to $6.03 in morning trading Thursday after the company, which provides Internet search services, said that results for the quarter ending in March will be better than previously thought.
The Pasadena, California-based paid-search company also said that it has more than 40,000 active advertisers, up from 37,000 at the end of December.
GoTo had predicted revenue for the first quarter ending March 31st of $45 million, with a loss before acquisition-related charges of $16 million.
GoTo said that its search results reach about 75 percent of U.S. Internet users, through distribution agreements with portals including America Online, AltaVista and Terra Lycos.
"Internet search is the ultimate direct marketing medium," said GoTo president and chief executive officer Ted Meisel. "As advertisers look for measurable results, particularly in a challenging economy, they continue to adopt GoTo in increasing numbers."
In the fourth quarter ended December 31st, GoTo posted a loss before charges of $16.8 million, or 34 cents per share, compared with a loss of $7.2 million, or 17 cents, in the year-earlier quarter. Revenue rose to $39.8 million from $13.3 million.
The net loss in Q4 2000 totaled $361.69 million, or $7.27 per share, compared with a loss of $7.24 million, or 17 cents. Fourth-quarter results included a $309.3 million write-off for the company's acquisitions of Cadabra and AuctionRover.com.
GoTo previously stated that it expects to break even in the fourth quarter of this year. The company provides a set of e-commerce services to Web site partners, including paid-for search results, comparison shopping and auction services.