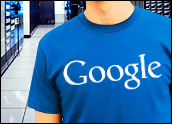 Google's most recent efforts to expand its advertising delivery network to the world of video games may bring credibility to the in-game advertising space.
The search giant is in talks to acquire Adscape Media, a San Francisco company that places advertising inside video games, according to The Wall Street Journal. The deal reportedly may close as early as next week.
Google officials were unavailable to comment for this story.
In-game ads include virtual billboards in urban environments, as well as special puzzles or challenges built directly into the game play when the games are connected to the Internet.
A virtual billboard, for example, could change to reflect new advertisements. Over the course of a single summer, the same billboard could show advertisements for different summer blockbuster movies. A player might be able to stop and watch a movie trailer, or even complete an immersive task built into the game itself.
In "True Crime: New York City," Puma and Activision created a mission challenging players to locate a special set of Puma shoes and return them to a particular store.
The Bigger Questions
The real question of interest now isn't whether the deal is going to happen, but what Google's entry into the in-game advertising world might mean.
"I think what keeps advertisers from adopting the medium is that it doesn't feel obviously relevant to them. If you're a bank or traditional advertiser, games are not the first thing you think of because they feel so untested," Shar VanBoskirk, an analyst for Forrester Research, told the E-Commerce Times. "I think what Google's entry into the space does is give the whole space credibility."
Microsoft took the first step toward increasing in-game advertising credibility last year when it acquired Massive, another in-game advertising company, reportedly for US$200 million-$400 million.
Even though in-game advertising is relatively young, Yankee Group has projected the in-game advertising market to explode, reaching a market value of $732 million by 2010.
Microsoft's Xbox 360 and Sony's Playstation 3 now make it easier than ever to connect console-based games, rather than PC-only games, to the Internet. In addition, the rapidly growing game industry is a prime place to attract the attention of 18- to 34-year-old males, a highly-valuable demographic for advertisers.
"What makes in-game advertising a viable place is that it's an engaging place for users," VanBoskirk noted.
"We're in an era where consumers are reacting to too much media in a negative way. They are starting to filter out messages, they aren't paying attention, and games are the last bastion where consumers are paying attention to the medium and are actively engaged with it," she explained. "So advertising that's placed in a smart way in the game can actually contribute to the gaming experience while communicating a brand or product message."
Google's Influence
Part of the problem for fledgling in-game advertisers is understanding what, exactly, they're buying in an online game.
"The advertiser craves standard ad formats, and yet it's precisely standard advertising formats that the consumer can tune out so easily," VanBoskirk added. "What the gaming environment needs is some definition of what you're paying for."
Can Google help define standard in-game advertising formats? Mostly likely, yes.
"Google takes a technological approach to a marketplace, meaning that they can develop technology that improves the delivery mechanism for advertising," Yankee Group Senior Analyst Michael Goodman told the E-Commerce Times. "In theory, Google could provide a cross-platform ad buy — you could buy online, print, radio, and in-game. Since they haven't announced anything yet, it's hypothetical, but if you want to take advantage of it, that's what you want to do."
Google's ability to make ad buying easy, ultimately, is what might make it possible for many new advertisers to get in on in-game advertising.