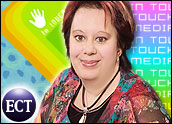 Online advertising, like many novelties that play on the Internet, at first grabbed a great deal of attention from businesses. Online advertising was the new fad, and many people predicted it would overtake traditional advertising forms. Now that the newness of Internet advertising is wearing off, some early adopters argue that advertising on search engines such as Google and Yahoo is not working. They cite recent stories of click fraud and other problems with online advertising.
The E-Commerce Times discussed the potential of online advertising with Laura Betterly, president and CEO of In Touch Media Group, an online marketing and public relations firm. Based in Clearwater, Fla., In Touch Media specializes in generating Web site visitors and customers for its business clients using a combination of search engine advertising, publicity and other marketing services.
Betterly sees online advertising as still a smart move for businesses, and discusses what entrepreneurs and businesses need to know if they are advertising online.
E-Commerce Times: The nay-sayers are warning about the bad things that can happen with online advertising. How viable is the Internet today as an advertising outlet?
Laura Betterly:
Online advertising is quite huge. Granted, we have seen recent issues where people try to play the system and tweak it for their own advantage. This makes everybody involved with online advertising look bad, but that is not the case with the entire advertising industry.
My clients and I use the Internet exclusively for advertising and do very well. Internet responses let you measure the results better than other methods. The audience share from broadcast media is dropping off thanks to TiVo and the iPod. Viewers can fast forward past the ads. Advertisers now need a new way to get their messages through.
ECT: With the Internet being such a vast medium, how do companies find success with its one-size-fits-all structure?
Betterly:
To make online advertising work for a particular market, businesses have to be informed consumers. For instance, it is very hard to measure if a commercial for a breakfast cereal is hitting its mark. Advertisers cannot place ads in isolation. They have to monitor the results. Monitoring online ads definitely offers more accountability and options over traditional forms of advertising, such as print and broadcast commercials.
ECT: What do you think about using Google's AdSense?
Betterly:
Google's AdSense program is a perfect example of online advertising that needs proper monitoring. You have to watch what is happening with your ads. AdSense is content based, but that does not work for every case. This approach is not always relevant to viewers. It does not always lead to an ad or sale.
ECT: Is online advertising strictly a hit-or-miss proposition then?
Betterly:
No, it does not have to be. Internet advertising is far from being dead or hit-or-miss. Online advertising is going through growing pains just like any new system does. As with any form of advertising, it is your money so you had better see where it is going. For me, it is the same thing as looking over every back charge I get with my credit card sales. Keeping an eye on Internet advertising results is the same kind of thing.
Two of the benefits of using online advertising [are] the convenience and the flexibility of having a computer make the process automated. But you can never assume that the computer is always right. If an advertiser does not keep tabs on the activity, he or she will never know until it is too late if the ad is working. When an ad is not working, it is time to call an ad word specialist into play. The value of advertising on the Internet is that it is quicker and easier to check out your progress. Just like working a home business, using online advertising requires a good product and hard work.
ECT: Online advertisers of performance-based ads are becoming increasingly concerned about click fraud, which happens when pay-per-click advertising data is compromised by illegitimate hits. How much of a problem is click fraud?
Betterly:
Click fraud is definitely something to be aware of. You have to watch your statistics and put a lot of safeguards in place. That is one reason why newcomers to online advertising need professional consultants to guide them. Sure, there are instances where competitors click on another's ads to use up their budget. This can be a problem with search engine advertising contracts.
Another problem related to this is search engine spam. Once you get found out to be that kind of a spammer, your ads get deleted. I think that the next generation of search engines will have algorithms to filter out this kind of advertising abuse. But overall, online advertising offers consumers and entrepreneurs far more good than bad.
ECT: We are starting to see a dramatic rise in the cost of online advertising. Is the Internet still a good bargain as an advertising outlet?
Betterly:
You have to take a good look at what works. Price-per-click can be ridiculously high cost. You have to analyze your sales in relation to an ad that produces a click-through rate of 8 or 10 or 12 percent.
Online advertising is becoming an art form. Those businesses and entrepreneurs who use it need to be professional. You have to know how to set Google ad words, for instance. Also, you have to know the right buzz words to use. Anyone can put up an ad on the Internet. The problem is that it gets disabled in the first 24 hours. There is only so much good real estate online. Most people doing a search do not go past the second page of results. Then they start a new search.
So there is a bit of a science to knowing what to do. In today's fast competitive climate, you cannot do it by yourself. You need professional help.
ECT: Can you share with us a personal success story about how you use the Internet as a shopper when you are not guiding businesses with their online advertising?
Betterly:
That's easy. I Googled gifts and vendors last year and found all I needed for my holiday shopping list. That shows what the Pew Research Center e-commerce report indicated recently. Over fifty percent of all sales online preceded a search, both on- and off-line.