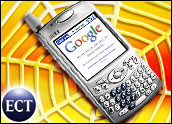 There's little doubt that Google and the other members of the Open Handset Alliance (OHA) made one of the biggest technology marketing splashes in recent memory on Monday with their introduction of Android. What kind of lasting impact the platform will have on the cellular industry, however, is less certain.
Android is billed as the first truly open and comprehensive platform for mobile devices, and it boasts an impressive list of supporters, including T-Mobile, HTC, Qualcomm, Motorola and others. The goal, according to the participating companies, is to foster innovation and lower the cost of developing and distributing mobile devices and services.
On the surface, that sounds certain to bring benefits to the industry, to developers and to consumers. The reality, however, is that much has yet to be decided.
An Industry in Flux
"If you pull the camera back and look at what's happening, the industry is continuing to change," telecom analyst Jeff Kagan told the E-Commerce Times. "Networks are speeding up, handset makers are loading handsets with all sorts of new features and functionality, and the cell phone is increasingly becoming the 'third screen'."
Cell phones are more complicated to use than laptops, however, making it harder to get value from them, Kagan said.
"If you look at the typical wireless phone, it's loaded with all sorts of amazing technologies that most people are too confused to learn how to use," he noted. "Now we're starting to see a variety of companies addressing that — Apple with the iPhone, and now this new environment from Google, which aims to make it easier."
Just One Step
Android is an important step in the right direction, and one that comes at the right time, but it is just one step, he asserted.
"I think getting companies together is the right idea," he said. "Will it be the only framework, or the one that dominates? Who knows. But it is a move in the right direction."
Only a handful of companies and a few networks currently have joined the OHA so far, Kagan added. Those companies will certainly benefit if the platform endures. Then again, if it does endure, others will join it too, he explained, making it less clear who the winners and losers will be.
Little Risk
By focusing on the software platform and not devices, Google has minimized the risk for OHA participants and enabled the participation of handset manufacturers, Chris Hazelton, senior analyst for mobile device technology and trends at IDC Research, told the E-Commerce Times.
"These companies are still competing with each other and with the Android platform," Hazelton noted. "Google is spearheading this effort, but it's an alliance — not an operating system and not a device — so there's not as much risk."
If Android succeeds — however that may be defined — "Google will obviously win out among the alliance members because it doesn't have competition within the alliance," he said. Neither Yahoo nor Microsoft is involved, for example.
Those that may suffer, meanwhile, include the competing platforms, such as Symbian, Palm, BlackBerry, Windows Mobile, and other Linux operating systems, Hazelton said. "But it's still very early to tell, because the OHA partners are not limiting themselves to Android."
A Win-Win
HTC, for example, has said it will continue working with Windows Mobile, he noted.
If the platform does not take hold, it will still push the evolution of smartphones, Hazelton added.
Even if Symbian, which currently dominates the market, continues to lead, for example, "someone will still develop an easy and enjoyable, painless way to browse the Internet via mobile devices," Hazelton explained. When that happens, "Google will have a strong play because that's its bread and butter."
Simply by putting the emphasis on the mobile Internet, then, Google stands to be a big player whether or not Android "wins."
Increased Focus on Mobile
By changing the way applications are delivered to handsets, meanwhile, the platform provide more revenue opportunities for developers, which could make them more willing to spend time developing applications, Hazelton noted. "Development companies could now become much more interested in mobile," he said.
Consumers, on the other hand, stand to gain more choice and potentially lower costs and greater capabilities, he said.
Carriers, meanwhile, will become more committed to 3G, since that's necessary for mobile Internet, he added.
A Revolutionary Idea
Is Android likely to bring about a revolution? The answer again is uncertain.
"It's a revolutionary idea for the mobile space because it's heading off the potential domination of the smartphone space by one operating system," Hazelton said. "The smartphone market is still pretty young, and now we have a large player committing to open source."
"There are people who would posture this as being good for consumers, but that's probably more posturing than anything else," David Chamberlain, principal analyst with In-Stat, told the E-Commerce Times.
"What you get with Linux is a way for people to get in, tinker around, and potentially end up with incompatible versions," Chamberlain said. "It's as open as any of the other operating systems, but really there's nothing new under the sun. To get a phone knowing people will be tinkering with it and making perhaps incompatible versions doesn't impress me."
'Absolutely a Game-Changer'
Yet the combination of Google's vision for openness and the participation of Qualcomm, in particular, could still lead to some exciting consumer benefits, Chamberlain added — most notably, the potential for multiservice devices.
"You could end up with a handset that you could link up to just about any wireless network in just about any country in the world," he said. "That would be big news."
That, in turn, would mean that the industry economics could end up being much more favorable for operators, which now spend between $150 and $300 to subsidize subscribers' phones, Chamberlain said.
"Putting the burden of the total cost of the handset onto the consumer, rather than having it carried by mobile operators, would be absolutely a game-changer," he concluded. "And the benefit would go to the mobile operators."