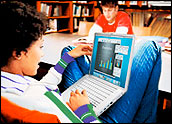 In what could be a bid to assuage some of the publishers angry about its efforts to digitize millions of books and a glimpse into a new revenue model for book publishers, Google is said to be weighing a book rental program.
Under the scheme that published reports say was pitched to at least one publisher, Google would offer users the chance to "rent" books for a limited time, up to a week. The rental price being considered is said to be around 10 percent of the purchase price of the book.
That price was said to be considered too low by the publisher that Google approached, the Wall Street Journal reported today. The publisher has not been identified.
Google did not respond to a request for comment on the reports.
Under the plan, users would reportedly have the ability to view books online, but could not print or download them to a local hard drive. But those details are likely to change over time if publishers are receptive, analysts note.
The rental program would be a way for Google to derive revenue from its Google Print initiative, a massive undertaking that will see it make digital copies of thousands of books. While those books will provide opportunities for monetization through keyword search and other advertising placement, book rentals would supplement those efforts.
Having a viable book-rental program may also be a way for Google to get a jump on others who might be logical hosts for such a plan, such as Amazon.com, or the publishers themselves, including Bertelsman, which has an extensive online presence already, and Random House.
Print and Prosper
Amazon has put its own twist on offering books digitally, unveiling earlier this month a plan to let users buy single pages of longer books. Amazon Pages has been widely lauded by the publishing industry.
Meanwhile, Google may also need to find a way to make publishers more comfortable with Google Print. While some publishers have embraced the effort, believing it will lead to more book sales by making words keyword searchable online, strong opposition remains.
Two groups have already sued Google, alleging that its copying efforts amount to copyright infringement of certain works included in Google Library, a part of the Print push that involves digitizing major university and public library collections.
Google had tried to calm publishers' fears by halting its copying work and offering an opt-out program, giving them the option of having their books excluded from the digitizing push.
That did not change the tone of the debate significantly and two groups filed suit against Google, which started up its digitizing project again on Nov. 1.
Crowded House
Despite Google's legal entanglements — the search engine insists that search is a fair use of the books it's copying — others are rushing to duplicate its efforts. Microsoft recently announced it would digitize 100,000 books from the British Library and Yahoo has launched the Open Content Alliance, a partnership with others to digitize libraries at the University of California and University of Toronto.
Forrester analyst Charlene Li said the fact that others are eyeing the same market as Google and copying the search engine's approach may be a signal that others think it is on solid legal ground, though each copying program is slightly different.
But it clearly underscores that portals and search players believe there is money to be made in book-based search. "There is significant potential for new business models still to emerge as well," Li added.