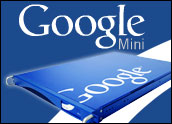 Hoping to convince more enterprises to ditch existing search tools for its offerings, Google is giving away its Google Mini search appliance to companies willing to make the switch to its high-end search tools for business.
Customers who sign up to switch to Google Enterprise will be able to receive free Google Mini, a scaled-down version of the same technology. Full-size enterprise appliances start at around US$30,000, while the Mini sells for just under $3,000.
On the official Google blog, David Bercovich, Product Marketing Manager for the Google Enterprise Team, said good feedback from past enterprise customers who have switched to Google Enterprise convinced the company to sweeten the deal with the giveway.
"We're hearing a fair number of stories from customers using our enterprise search products about how pleased their users are when they replace another search engine," Bercovich wrote. He said National Semiconductor saw internal search volume increase by nearly 10 fold while the National Park Service saw a 20-fold decrease in the number of Web-site focused complaints.
The Mini debuted earlier this year to substantial fanfare as Google was seen taking aim at the small- to mid-sized corporate market for the first time by offering a lower-cost search appliance. The company says the Mini is sized to work well in branch offices or other locations that have limited amounts of data that need to be indexed and searched.
Enterprising Google
Google has made a significant push toward the enterprise search space, a market niche all but abandoned by some of its consumer-focused search rivals in recent years.
Google has not revealed specific information about its enterprise unit, but General Manager Dave Girouard told the E-Commerce Times that the enterprise segment is seeing strong growth and is "increasingly profitable."
And the search company has left little doubt that it's serious about becoming a force in the enterprise search area, where many incumbent solutions already exist.
Since launching Google Enterprise a year ago, it unveiled the Mini program, announced a partnership program that invites business intelligence vendors and consultants to integrate Google tools into their work and most recently announced a partnership with IBM through which Google Desktop for Enterprise can be used to search stacks of data captured within IBM applications.
All About the Web
Some analysts believe the biggest benefit that Google stands to gain from its enterprise efforts will be additional users of its Web search. After all, the company's traditional model of monetizing search by using carefully placed ads probably won't translate to the corporate network setting.
But much of its recent effort, especially the IBM deal and the partnership program, has been aimed at getting Google's tools to reach deep inside enterprises to get at various types of so-called unstructured data, such as e-mails, documents and presentations, as well as more structured data such as that found within databases.
Google and other search companies have long made free giveaways of tools part of their strategy to drive more traffic to their Web search sites. Google and Yahoo both offer browser plug-ins, desktop search tools and other accessories meant to encourage use of their Web search.
And using enticements to convince potential customers to make a switch is also a tried-and-true approach in the tech field, one that software companies, database companies and others have used with varying degrees of success in the past. Such programs are usually a nod to the fact that switching represents an upheaval for an enterprise as well as additional cost, which makes such moves harder for companies to justify.
Forrester analyst Matthew Brown said the difficulty of finding specific data hidden among the 80 percent of corporate information that is unstructured leaves room for competition and improvement within enterprise search, even though some vendors have several years' head start on newcomers such as Google.