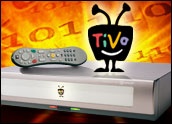 You may think it's annoying when you see the same commercial repeated during a 2:30 ad break in prime time, but have no fear — there is a method to an advertiser's madness. They simply want to make sure you are exposed to that product's branding/logo even as you're fast-forwarding past it on a digital video recorder (DVR).
Google thinks there is valuable data in what the eyes see, even as you're skipping past those commercials, which is why the search giant announced an "audience measurement agreement" Tuesday with TiVo, the granddaddy of DVRs. TiVo will give Google data regarding second-by-second viewing habits and trends gathered from its customers — anonymously, TiVo executives stressed — and Google will crunch the numbers through its Google TV Ads auction-based service.
"This deal with TiVo will give advertisers access to even more anonymized viewership data, making Google's dataset one of the best in the industry," said Mike Steib, Google's director of emerging platforms. "Advertisers can use this data to understand which audiences and ads are most effective, which we think will ultimately lead to more relevant ads for viewers," he explained.
"By using TiVo's massive samples and second-by-second granularity in its currency measurement, Google TV Ads can now provide an order of magnitude of improved accountability for advertisers," added Todd Juenger, TiVo vice president and general manager.
The Google TV Ads Picture
Google says its TV Ads business, which reaches 96 million households, has already served up 100 billion ad impressions since its 2007 launch; the platform is now used to sell local ads on a host of cable channels, including CNBC and SyFy. The TiVo deal adds to data agreements already in place using Dish Network subscribers' set-top box information, as well as a Nielsen pact. In fact, a quick check of the Google TV Ads Web sites takes you to a series of YouTube videos hawking the platform with titles like "Every Second Counts" and "DVR: The Great Equalizer."
The TiVo deal lets Google build on the formidable knowledge and experience it has acquired through its regular search advertising efforts, said Altimeter Group Founder Charlene Li. "What Google has better than anything else is their advertiser relationships," Li told the E-Commerce Times. "They want to be able to extend the intelligence they have about users across and outside the search engine. This is very consistent with what they're doing with Chrome OS and the Chrome browser. They can see what somebody does across the entire Internet."
Faster Than a Speeding TV Ad
What kind of picture does second-by-second data analysis provide into a TV viewer's habits, especially when those seconds are spent zipping through ads on a DVR?
TiVo and Google executives say some viewers do decide to watch some ads while fast-forwarding through others. That data can help lead marketers to create better, more compelling spots as they try to survive in a DVR-centric world.
"Being able to go into television viewing habits, whether through a TiVo or a set-top box, makes a big difference," Li said. "What ads resonate with you, etc. That's a really good thing. It's one thing when people fast-forward, but when do you not fast-forward? Can I use that intelligence to serve up the next ad? As an advertiser, that [data] is golden. Why even bother putting up an ad if somebody is going to fast-forward through it?"