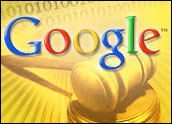 Google's search technology may infringe on a patent that was awarded in 1997, a year before the Internet giant's founding, according to a lawsuit filed last week.
Northeastern University and Jarg, a Massachusetts startup, which brought the action, say that Kenneth Baclawski, a Northeastern professor of computer science who cofounded Jarg, applied for the search technology patent in 1994.
The suit, filed in the U.S. District Court for the Eastern District of Texas in Marshall, seeks a jury trial and an injunction against further infringement of the patent, along with damages and royalty payments.
Advice Not Sought
Baclawski's patent — U.S. patent No. 5,694,593 entitled "Distributed Computer Database System and Method" — describes technology for performing searches through a distributed computer database system. The patent is currently assigned to Northeastern, which has licensed it exclusively to Jarg.
Jarg specializes in high-performance search technology using an ontology-based indexing engine.
The plaintiffs allege that Google failed to obtain legal counsel regarding Baclawski's patent, even though the bulk of its revenues depend on its search technology, according to court documents.
Foundation Technology
"Google has directly and/or indirectly infringed on one or more claims of the '593 patent, and Google is continuing such infringement by practicing or causing others to practice one or more of the inventions claimed in the '593 patent," the court papers assert. "For example, Google makes, uses, imports, sells and/or offers for sale search engine services and systems that infringe or that are used in ways that infringe one or more claims of the '593 patent in this district and elsewhere in the United States."
Advertising revenues — which are dependent on its search technology — historically make up more than 99 percent of Google's total revenues, the documents note.
Jarg declined to comment on the case; neither Google nor Northeastern could be reached for comment.
Threat of 'Trolls'
"Google, along with Microsoft and a number of other large companies, are defending against a host of so-called trolls — small companies, academics and individuals asserting patent infringement on core technologies," technology attorney Raymond Van Dyke told TechNewsWorld.
"It is a long way to go before trial even in the Eastern District of Texas, and with a reduced threat of injunction, pursuant to the Supreme Court eBay decision, Google is likely unconcerned at this time," added Van Dyke.
Indeed, following the recent eBay v. MercExchange case, injunctions are more difficult to obtain, particularly for those not using the patent in question, agreed Bruce Wieder, a partner with Dow, Lohnes & Albertson. In this case, "that could be an open question," he noted.
Laches and Estoppel
The length of time that has passed since Google began its search business could also work in its favor because of the legal doctrines of laches and estoppel, Wieder added.
Laches would require Google to show that the plaintiffs delayed filing their suit "for an unreasonable and inexcusable period from when they knew or reasonably should have known" about the alleged infringement, Wieder explained. It is presumed if six or more years have passed, though that presumption can be overcome, he said.
Estoppel, meanwhile, concerns the expectation that could have arisen on Google's part from not having heard from the plaintiffs for all its years of operation before now.
Settlement Likely
"Basically, those doctrines say you can not sit on your rights for an extended period of time," he explained. "One would be very surprised if Google doesn't raise this."
Whether the case even makes it to trial, however, is far from certain.
"With patent cases costing millions of dollars in attorney's fees to get to trial," Van Dyke said, "it is likely a settlement is reached down the road."