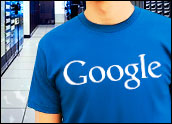 Google on Wednesday revealed statistics about the makeup of its workforce and admitted that it's pretty homogenous.
"We're not where we want to be when it comes to diversity," Laszlo Bock, senior vice president for people operations, told the E-Commerce Times.
"It is hard to address these kinds of challenges if you're not prepared to discuss them openly, and with the facts," he remarked.
"All our diversity efforts, including going public with these numbers, are designed to ensure Google recruits and retains many more women and minorities in the future," Bock added.
'Under 10 Percent of College Grads'
Google's global workforce is 70 percent male, according to the report. In the United States, its staff is 61 percent white, 30 percent Asian, 3 percent Hispanic and 2 percent black; 4 percent identify with two or more races.
As an example of the divergence of those statistics from those of the nation as a whole, African-Americans actually account for 13 percent of the U.S. population, according to Census.gov.
A similar lack of diversity has been shown to exist in other major tech companies.
Part of the reason for the disparity is that "women earn roughly 18 percent of all computer science degrees in the United States," Bock noted. "Blacks and Hispanics make up under 10 percent of U.S. college grads and collect fewer than 5 percent of degrees in CS majors, respectively."
'The Numbers Are Not Good'
Diversity issues have figured prominently in the tech industry over the past few months. Perhaps most notable among recent examples were the resignations of Mozilla's Brendan Eich, and GitHub's Julie Ann Horvath and Tom Preston-Werner.
Noting those and other recent events, in fact, nine women this week published a manifesto of sorts for women in the technology industry.
"We are delighted that Google and other companies are being more transparent about the percentage of women in their workforce, and particularly the percentage of women in technical roles," Telle Whitney, president and CEO of the Anita Borg Institute, told the E-Commerce Times.
"That being said, the numbers are not good," Whitney added. "Google's technical workforce is made up of only 17 percent women, which is lower even than the national norm of 20-24 percent."
Nevertheless, "the first step for change at any company is measurement," she said. "That is why Google's announcement is such important progress."
'A Shortage of Tech Folks'
"I believe Google wants to hire diversely," Maribel Lopez, principal analyst with Lopez Research, told the E-Commerce Times.
However, several factors make that a challenge, she added.
"There is a shortage of tech folks in the U.S. in general. We didn't push this within our educational system. Math/science/engineering isn't hot in the U.S. — it's also even less hot for female students, which is just changing now," she pointed out.
"When I went to business school in the '90s, it was a 70/30 ratio male to female," Lopez explained. "I'm guessing it was even less at MIT."
So it's not necessarily that companies don't want to hire women technical professionals, she said. It's that, at least to some extent, "they don't exist."
'They Need to Grow Diverse Talent'
Another factor underlying the problem is that "we won't allow minorities from other countries that may be skilled to immigrate and create role models," Lopez suggested.
"We all need to encourage people — minorities and women or others — to learn new skills," she urged.
In short, "if Google and others really want a diverse populace, they need to grow diverse talent," Lopez concluded. "This means programs in universities and programs within Google corporate that train employees."
'Its Interest Is Encouraging'
It is important that Google released the data and acknowledged the problem, Greg Sterling, founder and principal analyst with Sterling Market Intelligence, told the E-Commerce Times.
"Other companies should follow Google's lead," Sterling said.
"There are many things that the tech industry can do to improve diversity, one of which is more aggressive recruiting on college campuses and grad schools for minority populations where it falls short," he suggested.
"Google and others can also do outreach to kids and younger students to help encourage interest in science, engineering, tech and so on," noted Sterling. "To some degree, they already do that."
Still, there's a larger "structural" problem in the economy and society, he said.
"Systemic challenges around educational opportunity are ultimately reflected in Google's hiring," Sterling noted. "The company can't control those factors in the larger society, but it can certainly do a better job, and its interest in doing so is encouraging."