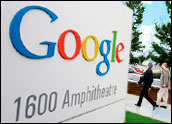 Did someone just blink in the great Google vs. News Corp. paid content smackdown? The latest round of digital brinksmanship involving how the search giant aggregates news stories behind paywalls got more interesting Tuesday when Google announced a couple of measures to placate publishers, including a new five-pages-free addition to its First Click Free indexing feature.
"We've found that some publishers who might try it are worried about people abusing the spirit of First Click Free to access almost all of their content," Google News spokesperson Chris Gaither told the E-Commerce Times. "We think that giving publishers the option to cap the number of free clicks at five per user per day strikes a good balance between the needs of our typical user and of publishers."
Google also changed the way its news content crawlers index paid content in a way that it says will keep users from experiencing "cloaking," or pay registration pages that pop up unexpectedly for users, while also allowing publishers more leeway in what those crawlers encounter. "This gives news publishers even more control over whether we index their content because it allows them to give one set of automated instructions — don't index my site or my photos or this particular article, etc. — for Google News and a different set for Google Web Search," Gaither said.
News Content Consumption
Is Google giving in to the likes of News Corp.'s Rupert Murdoch, who has recently threatened to consider entering into exclusive indexing arrangements with Microsoft's Bing search engine because of his displeasure over Google? Murdoch insists that aggregators rob his publications of potential revenue and user "stickiness." So has all that shouting had an effect on Mountain View?
"I think this is smart. I agree that Google is trying to figure out something to make the squeaky wheel less squeaky. In this case that would be Murdoch," said Kathy Gill with the University of Washington's digital media program. "But it's worth it to note that this is just paywall content and that publishers have always had the right to not have their paywall content indexed in a search engine."
Recent figures Gill cited show that Google News sends hundreds of thousands of users per minute to newspaper Web sites. The overwhelming majority of news sites available on the Web are still free, regardless of the agonizing over 20th-century business models that put advertising-only media outlets on much shakier footing with the advent of the Web. Traffic still counts, Gill said.
"This whole thing was initially framed as 'Google capitulates,' and that's not the way I see it," she told the E-Commerce Times.
A New Way of Looking at Content
"Yes, I think Google is reacting to concerns it hears from publishers," SearchEngineLand Editor in Chief Danny Sullivan told the E-Commerce Times. "It actually offers even more options that some publishers are aware of, but I'm sure they'll be more than happy to accommodate anything they think is reasonable. The changes they did today and yesterday were totally reasonable."
Google won't specifically acknowledge that the recent noise from Murdoch and other big-media types have impacted this week's decisions. "We're always talking with publishers about ways that we can work together and help their content be found," Gaither said. However, his company also emphasizes pleasant and compelling user experiences, whether it's unobtrusive ads on the sides of Google search results pages or where consumers land when they click on Google News links.
The paid content issue will always be a sticky one as long as publishers adhere to traditional perceptions of their products, Gill said. "These are now experience goods, and I'm not sure newspaper publishers are used to thinking about their content as an experience good. It's the whole concept of 'try before you buy.' You experience it like this — if it's good enough, I'll give money for it. That is a fairly common characteristic of digital goods now .That's why you have 30-day trial periods for software now," she explained.