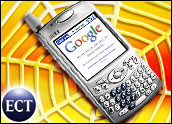 Google and Verizon Communications are nearing a deal that would make Google the default search engine on all Verizon mobile devices.
The two companies would split advertising revenue from the new mobile search service.
Google and Verizon declined to comment on the impending deal.
Verizon Needs Google
The tie-up is important for Verizon "because Google has 70 percent share of the search market on the PC," Laura Martin, an analyst with Soleil Securities Group, told the E-Commerce Times. "Signing an ad revenue deal early would give Verizon an advantage over its competitors."
Google turned its attention to the mobile market earlier this year. The Mountain View, Calif.-based search engine giant already provides a number of search-related services for this year's top-selling handset, the Apple iPhone.
The iPhone is available only through AT&T, the largest wireless operator in the U.S. in terms of subscribers. Verizon is the second-largest carrier.
"I think this is a competitive response by Verizon to the Google-iPhone deal, which has shown the right partnerships can push cell phone adaptation by the consumer," Martin said.
Google-Verizon Deal a Win-Win
If it comes to fruition, the deal will be a win-win for Google and Verizon, said Sid Parakh, an equity analyst with McAdams Wright Ragen.
"It's good from a Verizon standpoint because it enhances the subscriber experience," Parakh told the E-Commerce Times. "Right now, there are a lot of things you need to do to find what you want using a mobile phone. From a Google perspective, they think mobile is the next big area of growth."
Google's mobile strategy isn't restricted to Verizon or the iPhone, either. In April, the search engine invested US$500 million in Clearwire, a Kirkland, Wash.-based wireless Internet service provider that's in the process of merging with Sprint Nextel.
"Mobile broadband is expanding very quickly," Parakh pointed out. "When you look at deals like Clearwire or even new 3G and 4G services, it's easy to see why they'd be interested in getting a foothold in the mobile data market."
Privacy Issues
A deal involving two powerful players like Google and Verizon doesn't come without issues, however. Verizon may be reluctant to share customer data with Google — data that the search engine company wants badly.
"There are privacy issues involved here," Parakh noted. "If, at some point, Verizon decides not to deal with Google anymore, there is no reason for Google to have access to data related to Verizon's customers."
Google's Android project — a platform that allows outside developers to create mobile applications — is also an important part of any deal between Google and Verizon, observed Soleil's Martin.
"I think it's a good idea for Google to insist that Verizon be open to Android," she said.
Google's reasons for developing Android are two-fold, according to Parakh.
"They want to make the user experience better for the customer, but they also know that having an install base on its operating system — much like Microsoft does on handsets — will give them more share of the mobile search market," he said.