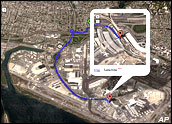 Striking off in new directions as it seeks ways to stay ahead of the growing pack in the search industry, Google has unveiled a feature that gives users the ability to see satellite imagery when they view maps and also said it would collect personal video clips for a new service it's testing.
The satellite map service builds on Google's recent acquisition of Keyhole, which had made the satellite maps and others available to subscribers only. Now the high-resolution bird's-eye view maps are available for free through Google Maps.
Gee-Whiz Factor
The enhanced map search service can now return a map for almost any address in the U.S. and Canada and at the same time offer users the option of viewing the same address in a satellite map. Users can zoom in and out on the satellite maps and scroll to nearby areas, and driving directions can be superimposed on the map so that a printed version will have all the information in one place.
Google thinks the satellite maps will have utilitarian value as well as a strong gee-whiz factor, saying it expects that those considering purchasing real estate or planning vacations might use them to explore the surrounding areas.
Google's volley is just the latest to underscore that search companies think maps are a key selling point to search customers. Yahoo recently began offering live traffic information alongside its local maps feature. And A9.com, Amazon's search entry, offers street-level views of some businesses in its search database, aimed at helping users make decisions as much as to help them find a location.
Analysts noted that Mapquest had offered satellite images in addition to its traditional graphic maps through a partnership that has since lapsed.
America's Funniest Videos?
Separately, Google co-founder Larry Page said during a cable television conference that the search company would soon start to archive personal video clips as a way of beefing up and further refining its video search service.
Page said Google would put out a call to invite people to upload video clips to Google's service in the next few days. The video archives will be used to refine Google's Video Search service, which currently returns links to downloadable content but does not return actual video snippets through Google.
Search industry expert John Battelle said Google has long viewed video search as "the next holy grail" of the search landscape and also a storage and archiving opportunity, since many people have scores of video tapes sitting in closets unviewed. Offering an easy way to store, search and present those clips could be a massive opportunity.
However, Google might be laying the foundation for something not even yet envisioned. "Clearly there's more to it than we've seen so far," Battelle told the E-Commerce Times.
A glimpse into what that might be came yesterday when Google said it had struck a partnership with Current, the new, youth-targeted cable TV network being started later this year by former U.S. Vice President Al Gore. Google will help users search for the short video vignettes the network will produce.
Pushing the Envelope
Analysts say Google is exhibiting the type of aggressive pursuit of staying ahead that got it to where it is now. Forrester Research analyst Charlene Li told the E-Commerce Times that Google built its reputation with cutting-edge technology, a difficult standard to continue to live up to and advance.
"The advances are more incremental now," Li said. "Everyone is pursuing the same avenues and opportunities," including well-heeled competitors such as Yahoo and Microsoft and a host of new, targeted-search startups.
Analysts said that just as other moves in the search and portal space — such as larger e-mail storage or desktop search — are soon answered or countered by others, competitors will be pressured to upgrade map capabilities in order to avoid the appearance of not measuring up to Google.
Meanwhile, Google was enjoying a strong day on Wall Street, where its stock rose more than US$3 to $188.26 after an upgrade from Lehman Brothers' Douglas Anmuth, who said in a research note that the search engine was well-positioned for future growth as predictions that paid search prices would fall substantially were not yet coming to fruition.