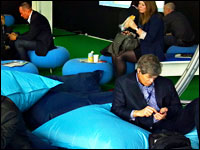 Advertisers running mobile ads have some homework to do on the Google mobile ads system; the search giant this week provided more specificity about its AdWords Enhanced Campaigns, which lets mobile advertisers adjust bids by device, location and time of day within a single campaign.
For example, a pizza restaurant may pay more for ads running during the week if it's located in a business district. That same pizza place might place a higher percentage bid on ads served to a smartphone within a half-mile of the restaurant location, as opposed to someone searching for somewhere to eat lunch that is a mile or more away.
More on Enhanced Campaigns
The move to Enhanced Campaigns blends mobile ads more closely with desktop ads, as well as ads served on tablets and other devices. The new enhancements focusing on mobile follow changes made to AdWords in early February.
Google made some of these changes to tie multiple screens and devices together.
"In the multi-screen world, it's increasingly important for marketers to reach people in the right context, like location, time of day, and the device they're using," Google Group Product Manager Surojit Chatterjee told the E-Commerce Times. "The combination of these different signals impacts what someone may be looking for or hoping to do, and enhanced campaigns help advertisers flex their bids and messages to reach customers in the right contexts."
Google offers some advantages over other ad targeting platforms, but recent changes actually took some popular targeting features away from marketers.
"Google's mobile targeting capabilities are more nuanced and refined than Bing's, although Enhanced Campaigns does remove some control from marketers," Greg Sterling, founding principal of Sterling Market Intelligence told the E-Commerce Times. "In the mobile display advertising world, however, there are lots of potential targeting parameters available on networks and exchanges that include location, day part, audience demographics and so on."
The new features actually take away mobile-specific ad buys to some degree. "You could bid exclusively on mobile devices and keywords and entirely opt out of PC AdWords in the past," said Sterling. "Now you cannot, but you can adjust bids to pay more or less for more mobile consumers — I suppose 100 percent less if you want."
Who Moved My Mobile Ads?
Google held a webinar Thursday to discuss its enhanced campaigns and demonstrate how to adjust campaigns for mobile bids. Google will run additional webinars on Thursdays over the next few weeks to help AdWords users learn more about the new enhanced campaigns.
Several participants in the webinar tweeted under the hashtag #enhancedcampaigns, and some of their tweets show that AdWords users are not all on board with the changes.
From Twitter user (and obvious Star Wars and LOTRfan) @JediReflex: "One does not simply enhance campaigns. It is folly! -Boromir on #Enhanced Campaigns" and
"#ThatAwkwardMomentWhen you realize that those hundreds of campaigns you built out need to go away now. #EnhancedCampaigns"Some users, though, are warming up to Enhanced Campaigns, like @JBGuru, who tweeted"I like parts of #enhancedcampaigns but still needs separate tablet bidding and a few more improvements." The changes may just be Google being Google, said Andrew Miller, founder of Your Search Advisor.
"I've always been a big believer that it's Google's world, and we're just playing in it," he told the E-Commerce Times. "We have to play by their rules."
AdWords advertisers can use the webinars to learn about some of the changes, but it will take legwork for users of the advertising platform to get caught up.
"We've already spent a lot of time digging through the content Google's published," said Miller.
Spring Migration
AdWords users may change over to enhanced campaigns in advance of its migration. The company plans to upgrade all campaigns in mid-2013, wrote Sridhar Ramaswamy, senior vice president of engineering at Google, on the AdWords blog. Advertisers are advised to learn the new system, however, before making the move.
"We have to spend a lot of time preparing and planning before presenting to clients," said Williams. "We have to make sure we're not setting our clients up to losing ROI, sales or leads because the user settings are not clear."
Looking Ahead
The changes will allow ad professionals to save management time, Miller said, by cutting down on the number of campaigns. Still, Miller and his firm will proceed with caution
"We're telling clients we're managing this slowly," he said. "We can't guarantee that we're going to have apples to apples comparisons right away."