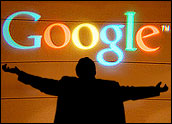 Call it a digital land rush — a stampede along the broadcast spectrum, the invisible areas of the air where TV signals, phone calls, wireless Web access and emergency alert frequencies roam. Google has its sights on some potentially lucrative tracts of the spectrum, so it's asking YouTube users to help sway the Federal Communications Commission.
On Monday Google launched FreetheAirWaves.com, a lobbying Web site detailing the tech giant's position on "white spaces," the areas on the broadcast spectrum between television channels that could provide fertile ground for a superfast wireless Internet — "WiFi on steroids," as it's been called. Google, Microsoft and other tech companies are asking the FCC for unlicensed access to the spaces, but they're opposed by the National Association of Broadcasters (NAB) and wireless companies like Verizon Wireless, who say devices using the white spaces will interfere with their signals.
Gray Areas in the White Space Debate
On the Web site, a Google spokesperson appearing in a YouTube video explains the technical white space issues and asks for user-generated videos and online petition signatures that lobby the FCC and Congress to open up the spectrum. Groups like the Media Access Project, which support Google's efforts, say public pressure applied via Internet activism has been helpful in previous campaigns for Net neutrality and Comcast's management of peer-to-peer traffic.
"It's been demonstrated that having viral videos to get people involved in things that were traditionally thought of as wonky, inside-the-Beltway issues turned out to be very effective," Harold Feld, Media Access Project senior vice president, told the E-Commerce Times. "The people who are online looking at these videos and issues are more politically aware. They follow the blogs and are much more likely to take part in online petitions or send e-mails to their Congressman. The people who are online get 'WiFi on steroids.' It will get them their online videos faster, or in the first place."
Signals Could Get Crossed
"We don't dismiss what we're up against here," Dennis Wharton, executive vice president for media relations for the NAB, told the E-Commerce Times when asked about Google's new lobbying effort. "We just hope that the Commission reviews its testing procedures and realizes what's at stake here is the ability of 110 million American households to watch clear TV pictures. I don't think Americans are going to tolerate their TV screens freezing up just to keep Microsoft and Google happy."
The FCC is expected to release testing data soon on device transmissions and the potential for interference with existing broadcast frequencies.
MAP spokesperson Feld said the ability for rural Americans who currently don't have access to wireless broadband to experience that service will also be a powerful argument for opening up white space spectrum. "If it were just about better toys, nobody would care," Feld said. "But we're looking at something that would unlock rural broadband. Rural communities could set up their own WiMax clouds. It's an opportunity that we're not going to find anywhere else in the near future."