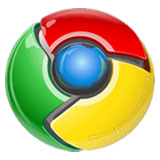 Google is moving into a new market with the launch of its teleconferencing system, Chromebox for Business.
The system uses the Chrome operating system and is built on Chrome's core tenets of simplicity, speed and security. It marries Google+ Hangouts and Google Apps to allow meeting participants to hold high-definition video meetings with document collaboration options.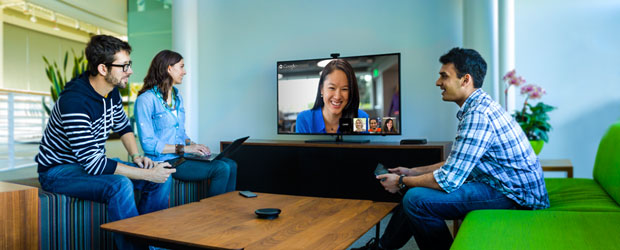 Chromebox for meetings uses Google+ Hangouts and Google Apps with a Chromebox to enable high-definition video meetings.
Users can manage meeting rooms using a Web-based management console. All the portable system needs to work is a display unit and Internet connection. Customers press a single button on the remote to enter a meeting, and they can share their laptop screens with other participants wirelessly.
Through the Google Apps integration, users can invite others and add additional rooms to meetings directly from their Google Calendar.
Dial-In Option
Up to 15 participants can join teleconferences from their Chromeboxes, laptops, smartphones or tablets. Chromebox can connect to traditional videoconferencing services through a tool from Vidyo. Participants also can dial into conference calls using a phone number from UberConference.
The Chromebox itself includes a fourth-generation Intel Core i7 processor, HDMI and DisplayPort++ connectivity, four USB 3.0 ports, Ethernet and dual-band WiFi 802.11 a/b/g/n.
The camera offers 1080p full HD resolution, though it automatically shifts resolution based on the system's available bandwidth. It features a Carl Zeiss lens with autofocus and automatic low-light correction.
The dual microphone and speaker provides wideband frequency response and has a built-in digital signal processor for clear speech. The microphone is omnidirectional and includes a noise filter. It has mute, end call and volume buttons.
The remote control uses radio frequency rather than infrared, meaning it does not have to have a direct line of sight to the Chromebox. It features a full QWERTY keyboard on the rear, and has a nano-sized USB adapter.
Support Fees
Chromebox for Meetings is now available to U.S. customers starting at US$999. That includes the Asus-manufactured Chromebox and coverage for management and support for the first year, which typically costs $250. CDW and Synnex are assisting with distribution.
Several firms have been testing Chromebox for Meetings, including Eventbrite, Gilt, oDesk and Woolworths.
Chromeboxes built by HP and Dell will be available in the coming months. Google plans to take Chromebox for Meetings to Australia, Canada, France, Japan, New Zealand, Spain and the UK later this year.
Price Factor
"The biggest contrast between Chromebox and competing meeting solutions is price," Charles King, principal analyst at Pund-IT, told the E-Commerce Times.
"Competing solutions often include more comprehensive components — displays, etc. — but are typically far more expensive," he said.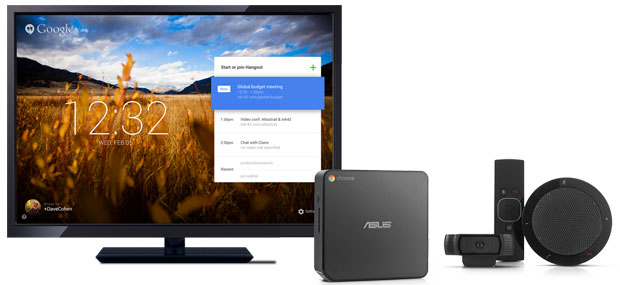 Chromebox for meetings includes an Intel Core i7-based Chromebox, high-definition camera, combined microphone and speaker unit, and a remote control — display not included.
"The cost is the real eye-opener here," King continued.
"What Google seems to be trying to do is move what has long been mostly an enterprise-class solution downstream to organizations ranging from startups with a handful of people to small businesses to work groups in medium to large-sized businesses," he explained.
"That said, the Chromebox will require some tinkering — choosing and buying a display, and setting up an area for conferencing. But given the popularity of video- calling technologies like Skype, that won't faze most people," King said.
"I think what this really says is that the time has come for Internet-based video conferencing that's good-enough quality to use for business," Roger L. Kay, president at Endpoint Technologies Associates, told the E-Commerce Times.
"The competitor at that level is really Skype," he noted. "Unless you pay something, you get a pretty de-featured version of Skype. There's always a lower-cost option — it's just that the quality isn't as good, and there aren't as many features."