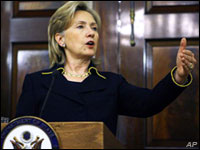 American companies need to take a stand against censorship on the Internet, Secretary of State Hillary Rodham Clinton said on Thursday in a speech on Internet freedom delivered at the Newseum in Washington, D.C.
"Censorship should not be in any way accepted by any company from anywhere," Clinton said, "and in America, American companies need to make a principled stand. This needs to be part of our national brand."
Taking such a stand is not only the right thing to do from an ethical standpoint, Clinton said, but also good for business. "Consumers worldwide will reward companies that follow those principles," she said.
'We Look to the Chinese Authorities'
"Just as steel can be used to build hospitals or machine guns," Clinton explained, "modern information networks and the technologies they support can be harnessed for good or for ill. Technologies with the potential to open up access to government and promote transparency can also be hijacked by governments to crush dissent and deny human rights."
The recent crisis between Google and the Chinese government, for example, "has attracted a great deal of interest," she noted. "We look to the Chinese authorities to conduct a thorough review of the cyber intrusions that led Google to make its announcement. And we also look for that investigation and its results to be transparent."
In the meantime, "we are reinvigorating the Global Internet Freedom Task Force as a forum for addressing threats to Internet freedom around the world, and we are urging U.S. media companies to take a proactive role in challenging foreign governments' demands for censorship and surveillance," she said. "The private sector has a shared responsibility to help safeguard free expression. And when their business dealings threaten to undermine this freedom, they need to consider what's right, not simply what's a quick profit."
'We Want to Have a Partnership'
The State Department will be convening a "high-level meeting next month co-chaired by Under Secretaries Robert Hormats and Maria Otero to bring together firms that provide network services for talks about Internet freedom," Clinton said, "because we want to have a partnership in addressing this 21st century challenge.
"Given the magnitude of the challenges we're facing," she concluded, "we need people around the world to pool their knowledge and creativity to help rebuild the global economy, to protect our environment, to defeat violent extremism, and build a future in which every human being can live up to and realize his or her God-given potential."
Countries or individuals that engage in cyber attacks "should face consequences and international condemnation," she said. "In an Internet-connected world, an attack on one nation's networks can be an attack on all."
Internet Freedom
In a letter written before the recent Google controversy took place, several senators urged Clinton to quickly spend the US$45 million that was earmarked over the last two years for Internet freedom.
Five senators, led by Sam Brownback, R-Kan., in fact, have urged Clinton to hasten support for organizations that aim to make it easier for people in countries like China and Iran to get around government restrictions on Internet use.
Google did not respond by press time to the E-Commerce Times' requests for comment. Though advocates for Internet freedom were divided on Clinton's stance, many considered her remarks the most important speech about Internet freedom ever delivered by a top U.S. official.
'A Great Beginning'
"I think it's a great beginning," Danny O'Brien, international outreach coordinator for the Electronic Frontier Foundation, told the E-Commerce Times.
"There's always a danger that if the State Department argues that U.S. companies should be behaving in certain way, that will be perceived in other countries as companies acting as limbs of the State department," O'Brien explained.
"But I think U.S. companies do have an obligation" to insure that for the markets they work in, they help "make those markets possible," O'Brien added.
'Extremely Disappointing'
Not everyone, however, was quite so sure.
Clinton's speech was "extremely disappointing," said Michael Horowitz, senior fellow at the Hudson Institute, which advises the Globe Internet Freedom Consortium (GIFC).
"There was lots of rhetoric, but it didn't deal with the central questions that seem to be very much on the table," Horowitz asserted.
"In the end," Horowitz told the E-Commerce Times, "the central question is, is there present capacity to breach the firewalls of these dictatorships? The speech danced all around this, but it didn't even remotely address it. The implicit suggestion was that there is no capacity.
"I think that's the question the State Department needs to answer," he added.
'I'd Breathe a Lot Easier'
"If I was the Chinese firewall bureaucracy, I'd breathe a lot easier today in light of Clinton's speech than I would have yesterday," said Horowitz.
Five million dollars were appropriated in 2009 for Internet freedom, he pointed out — "then they sat on it for year, and then put out an RFP whose terms were almost bizarre."
With regard to the Google-China standoff, "the takeaway message is, Google must either submit to censorship or lose China markets," Horowitz said. "We don't believe that's true. We believe that with support — specifically, upgrading the server capacity of the GIFC — we can in weeks allow 50 million users today in closed societies to avoid firewalls."
Currently, GIFC servers can accommodate only 1.5 million users per day, he noted.
In such an event, those users would "get access to Google.com in the Chinese language — they'd get access to a wholly uncensored Internet," he explained.
Next Up: The Firewall Builders
Clinton, however, "didn't speak of the Google issue in a serious way," Horowitz charged.
Looking forward, a lot of attention has been paid to companies like Google, Microsoft and Yahoo, "whose involvement in China has meant they've had to censor their services," he noted.
"The obvious next group of companies that really should have this investigation are the companies that sold and built the great firewall of China," he concluded.
"It's a well-known fact that U.S. companies like Cisco have participated in the construction of the software and hardware that makes up these censorship systems," he pointed out. "It's not clear what the ramification for these companies is, but attention needs to be paid to them."