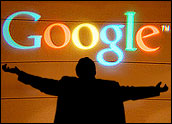 Internet search engine leader Google reported massive quarterly financial gains Thursday, posting a net income of US$1 billion in the first quarter of 2007, up from $592 million in the first quarter of 2006, and blowing past Wall Street's expectations.
Google's 69 percent growth far surpassed Yahoo's first quarter performance, also reported this week. While Yahoo owns a second-place search engine market share of 27.5 percent compared to Google's 48.3 percent, according to the latest data from comScore Media Metrix, Yahoo failed to generate substantial gains.
"Google has really refined its paid search platform," Greg Sterling, principal analyst for Sterling Market Intelligence, told the E-Commerce Times. "They continue to tweak and invest in it."
Google's Core
While Google has acquired high-profile non-search engine related properties like video-streaming site YouTube — in addition to delivering office document applications online, maps, e-mail, instant messaging and blogs — Google's core business remains firmly rooted in online search and advertising services.
"We are ecstatic about our financial results this past quarter," Google CEO Eric Schmidt said during Google's financial report conference call on Thursday. "Our core business remains very strong and continues to grow." While the company saw solid gains for its North American business, international revenues where particularly strong, he noted. The company generated $1.7 billion in revenue outside of the U.S., snagging 47 percent of Google's revenue.
"The thing that is very difficult for Google's competitors is that, in the consumer mind, Google owns the brand — Google is synonymous with search," Sterling said. "Google has continued to invest very aggressively in search, and that's a hard thing for its competitors because it has a lot of money and is aggressive on defending its core business. I don't think anyone else, even Microsoft, is investing in search at the level of Google."
Expanding the Ad Base
Google's plan to acquire DoubleClick may make the company even stronger. Google currently excels at targeted text-based advertising — an area that Yahoo is going after with its Panama advertising initiative — but Google hasn't produced much in the way of online graphical ads, which is an area in which Yahoo has typically excelled. Because DoubleClick focuses on delivering graphical ads, Google may be able to extend its reach and pick up an even larger piece of the online spending pie.
Google is also making forays into the offline world of newspapers, radio and television. The company most recently has announced plans to sell radio ads through Clear Channel and television ads through EchoStar.
"Google's power comes over the amount of control they are gaining with the advertising spend," Rob Enderle, principal analyst for the Enderle Group, told the E-Commerce Times. "Google realizes that the future isn't in people buying things — the future is undoubtedly feeding off of the advertiser, so in effect you make money off of everything that's sold."
For example, if someone buys a PC, Microsoft stands to make money from the sale of its operating system. With Google's model, though, it doesn't matter if Google, despite its growing array of applications, actually owns any technology tied to a product, because Google still makes money. "So, in effect, instead of the Microsoft tax, you have a broader Google tax because it's all tied to advertising," Enderle explained.
Beyond the Core
"Google is not infallible," Sterling noted. "For instance, it failed to recognize MySpace as a destination, and that was an asset that Google could have capitalized on."
Enderle sees similar issues when Google extends beyond its core search and advertising models.
"On the social networking side, they are not even competitive, and for many of their new properties, they just haven't done well," Enderle explained. "Their strength has been understanding the revenue side, to play the monopoly game and lock up the revenue stream and own a segment. And the segment they are owning is as powerful, if not more powerful than the software segment Microsoft or hardware segment IBM that proceeded it. They are following a similar path. Unless something breaks, they are as likely to be as powerful in their day as Microsoft, IBM or AT&T was in theirs."