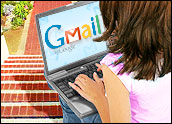 Large, mid-size and small businesses that were already using Gmail for their communications needs may have forgotten that the email application was still officially a beta app — that is, a work in progress, with all the tinkering and occasional downtime that goes along with the label.
On Tuesday, however, Google decided that it was time to declare Gmail and other key Web apps finished products by removing the "beta" tag. More features are planned for Gmail, and a Google Enterprise representative acknowledged on a company blog that the move was designed to attract more enterprise customers that might have been skittish about the "b" word.
"We appreciate that there have been some boulders along the road to adoption for the largest businesses in the world," Google Apps Senior Product Manager Rajen Sheth wrote on the Official Google Enterprise Blog. "Since the beginning of the year, we've focused on making it as easy as possible for those large enterprises to switch to Google, and offline access, BlackBerry and Microsoft Outlook support, and enterprise contact management were the dynamite that cleared the road to Apps.
"Today we're paving the road," he added. "We're taking the beta label off of Gmail, Google Calendar, Google Docs and Google Talk to remove any doubt that Apps is a mature product suite."
More Features Down the Road
However, as Google says bye-bye to some betas, it has already started testing two new features that should be added to its Premier editions in the coming weeks: email delegation, so office administrators can screen and send email for others, and email retention, wherein users can create settings to establish which missives will be purged first from in-boxes.
Also coming down the Google-paved road: features dear to the hearts of corporate IT administrators and CTOs who are always on the lookout for potential catastrophe.
"We're continuing to implement additional procedures to ensure that our business customers enjoy even greater reliability: live replication of data to other locations for near-instant disaster recovery, and special handling of business users' data in our data center operations," Sheth wrote.
Google claims 1.75 million businesses are currently using Google Apps, with most of those being small to medium-sized entities. Google's Premier edition costs US$50, and the company doesn't say how much it makes from its paying customers.
A Big Beta Difference?
"It just seems to be about time," Yankee Group analyst Josh Martin told the E-Commerce Times. "It doesn't seem to have scared consumers off in any capacity. There's less expectation that a non-beta service would be more stable or capable than a beta service. Maybe five years ago (when Google introduced Gmail), it would get away with a system shutdown because it was a beta. Now it seems those services can still go down, and you don't need to hide behind the beta label."
The new designations will make it easier to market Google Apps behind a more unified front, Martin said. That will be key as more mobile platforms beckon — and not just the Google-supported Android operating system.
"It's an important component, and it goes beyond Android to the inclusion of all the Google services on a lot of other devices that need and use Google services," Martin said. "Obviously, there's the iPhone, and Google has been intimately involved with Apple with putting a lot of services on there. This is a recognition that these need to be on different platforms and perhaps [reflects] a desire to bring everything to a different level beyond what it is today."
Gmail is the app that truly needs to make the transition to mobile in the most easy-to-use interface possible, Martin maintained, whether in consumer or enterprise markets. "I don't know if Google spreadsheets are as important as getting Gmail to work on five mobile platforms."