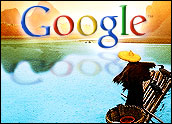 Search engine giant Google has launched a new music search service in China that enables users to legally download online music.
Music OneBox is backed by some of the major global music labels, as well as Chinese basketball star Yao Ming, who plays for the Houston Rockets of the National Basketball Association. The service is available at Chinese music site Top100.cn.
Google launched it with the intent of giving users an easy and legal way to obtain music — and to give music labels and publishers a new channel for distributing, promoting and monetizing their content.
Revenue Model
Like YouTube, Music Onebox will generate revenue through advertising. However, in a departure from its usual modus operandi, Google will not take a cut of the ad revenue generated by Music OneBox. Instead, ad revenue will be shared by the music labels and Top100.cn.
Launching such a service in China, where online music piracy is rampant, is not for the faint of heart, and it remains to be seen whether Google and its partners will succeed.
"Cultural issues aside, it will be an important test — not just for whether one can deliver legal, online music in China," Gartner Research VP Michael McGuire told the E-Commerce Times.
"As important to me as the piracy question is whether Google can create a useful and compelling revenue stream off an ad-supported service like this," he added.
Chinese Market Dynamics
While Google won't benefit from ad revenue generated by Music OneBox, the new service represents a unique opportunity to learn more about the Chinese music market, said McGuire.
"If you think about what they could learn in terms of all the data, traffic patterns, and seeing how people in China find music online, it will have long-term implications," he said. "Maybe what you'll see is if Chinese users find this alternative where the selection is broad and it's convenient, people might be willing to monetize that through their attention to online ads or direct payment for music over time."
Record Labels on Board
It's easy to see why the major music labels might partner with Google on Music OneBox.
"The music labels have been, to a large degree, eviscerated in terms of their traditional revenue model for the past several years," McGuire said.
In Google, the labels have found a partner with a dominant online presence that is also willing to forgo a cut of the ad revenue generated by Music OneBox — at least for the time being, he noted.
"[The labels] have got to be thinking, 'Boy, why shouldn't we?'" McGuire said.
Other Challenges
Though Google dominates the U.S. Internet search market, it has no such foothold in China, where the 800-pound gorilla is the search portal Baidu.
"This is part of a strategic effort by Google to build up its brand in China," McGuire said. "A celebrity endorsement from Yao Ming is probably very helpful."
Still, Google will face the same challenges as other online music stores: The company will have to get the record labels on board and build a catalog of music.
A quick glance at Top100.cn reveals a site that is heavy on domestic Chinese music artists. Some of the Western artists available include Enya, Sinead O'Connor and Dido.