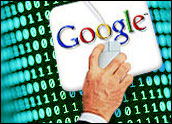 Google on Tuesday unveiled Insights for Search, a new tool designed for marketers that expands upon Google Trends with new search analysis capabilities.
Google Insights for Search "provides more flexibility and functionality for advertisers and marketers to understand search behavior, and adds some cool new features like a world heat map to graphically display search volume and regional interest," wrote team members Elan Dekel and Niv Efron on Google's Inside AdWords blog.
One result, Google likely hopes, could be a more attractive and narrowly targeted proposition for online advertisers using Google's AdWords program.
Apple vs. Apple
Users of Insights for Search can type in a search term to see search volume patterns over time — in much the same way they can with Google Trends — along with the top related and "rising" searches. They can also compare search volume trends across multiple search terms, vertical-industry categories, geographic regions or specific time ranges.
Data can be narrowed to categories such as finance, health or technology — to separate results for "Apple" the company from "apple" the fruit, for example. It can also be analyzed for seasonal factors with planning and budgeting decisions in mind. Geographic distributions can be explored for insight into how search volume varies across regions and cities, revealing clusters of target customers, for instance.
Potential applications for the technology include choosing advertising messages, examining seasonality, creating brand associations, or making decisions about entering new markets.
A car manufacturer wondering whether to highlight fuel efficiency, safety or engine performance in a new ad campaign, for instance, could enter those terms into Insights to see which one might resonate best, based on consumer search activity.
Where in the World?
"On Insights for Search, you can look at keywords and phrases or brands, disambiguate them by category, and look at them by date ranges and locations," Greg Sterling, founder and principal analyst at Sterling Market Intelligence, told the E-Commerce Times. "It also gives you queries that are related to your umbrella search term, and queries that are 'rising' queries — things that may be tied into a brand or product or concept that may be quickly ascending in their volume."
An advertiser who just launched a new campaign in Louisville, Ky., for example, could conduct an analysis to see if searches on terms from the campaign's slogan have increased in that specific region since the launch began, Sterling noted.
A manufacturer of hybrid cars could perform a global search to find out the regions where most searches on the term originate.
"It really is just a single input into a process of decision-making for manufacturers and marketers, but it's an interesting window into consumer interest and demand, as well as a reflection of what's going on more generally," Sterling explained. "This gives you — in more or less real-time and on a fairly massive scale — insight into what people are looking for."
Eliminating the Guesswork
Companies are using Web analytics more and more, and Insights for Search will likely tap into the growing trend, Rebecca Wettemann, vice president of Nucleus Research, told the E-Commerce Times.
"I think what we're seeing is that if companies are spending on AdWords, they want to correlate the returns — not just by guessing, but with better data," Wettemann explained. "This eliminates some of the guesswork and enables people to test out their marketing hypotheses to see where the results are coming from."
Indeed, "the idea is for Google to provide more value to its ad customers, no doubt — not only so they can better tune their ads, but also so they can increasingly come to Google as the trusted source for the information they need," Rob Enderle, president and principal analyst at the Enderle Group, told the E-Commerce Times.
"This is Google's space," he added, "and it has so much of a lead in this space that a competitor wouldn't just have to do better — it would have to do a lot better to displace them."