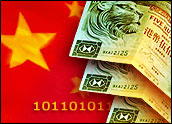 General Motors will invest US$3 billion to expand operations in China in the next three years, a massive outlay of capital that will enable it to double its output in the country that is home to one of the world's fastest-growing economies.
GM, the world's leading automaker, and its partners will introduce some 20 new vehicles, including American-made Cadillacs, into the Chinese market, expand manufacturing capabilities there and set up a new auto financing joint venture. The investments, which come on top of $2 billion already spent, will enable GM to boost annual capacity in China to 1.3 million vehicles by 2007.
Land of Opportunity
The move underscores the growing importance of the Chinese economy to an international company's success. Scores of U.S.-based companies have set up Chinese joint ventures, or bought Chinese companies.
"With the world's fastest-growing vehicle market, success in China is crucial to GM's global success," Phil Murtaugh, chairman and chief executive of General Motors China Group, said in a statement. "GM remains highly confident in the long-term prospect of the China market."
China's economy is growing so quickly — expansion is expected to be above 10 percent this year — that government-controlled banks are said to be mulling ways to put the brakes on expansion to avoid rampant price inflation. But demand for automobiles is expected to remain strong. One analyst in the region noted that there are as few as 8 cars for every 1,000 driving-age resident of the country.
Export, Import
GM will move to establish plants in China that can be adapted to make new models and work with local agencies to establish what will be the most advanced prototype laboratory in China, the first virtual-reality design studio and a noise and vibration testing lab.
GM's financing wing, General Motors Acceptance Corp., will also partner with local agencies to launch a car-loan company.
Although some were quick to wave a caution flag that the GM investment could mean the exporting of jobs, GM said the investment could benefit U.S. workers.
For instance, the plan calls for some higher-end GM models, such as Cadillacs, to be sold in China. Initially, the Cadillacs will be imported from U.S. plants in Michigan and Kentucky. Even after Cadillac plants are up and running in China, they will continue to use U.S.-made parts, GM said.
Employment analyst John A. Challenger of Challenger, Gray & Christmas, said fervor over outsourcing has been muted by the dramatic turnaround in the U.S. labor market, which has added over a million jobs in recent months.
"Companies are going to continue to pursue outsourcing because it can make them more competitive," Challenger told the E-Commerce Times.
But he also said that the GM moves into China underscore how outsourcing can be viewed as a long-term positive for U.S. workers, as many economists have argued. "The Chinese will eventually be buying U.S. products," he said.
Investment Grade
Many Western companies believe China's growth path could point the way to years of growing sales and profits.
Last month, AMD set up a Chinese holding company in an area of Beijing known as the China's Silicon Valley. In 2003, Oracle opened its second business development center in China, where it works with local companies to develop new applications, number-one chipmaker Intel announced plans to invest $375 million into a chip-finishing plant and eBay paid $150 million to buy e-commerce site EachNet.
The expansion in China has not been without setbacks, however. Intel, for instance, was forced to change its plans to ship notebook computers loaded with the Centrino wireless functionality because it is not compatible with the wireless security standard backed by the Chinese government, and there have been squabbles about censorship and other issues. By and large, however, the Chinese government has welcomed outside investment.
For GM, the investment marks an opportunity to capitalize on already strong growth. In the first four months of 2004, GM and its partners sold 178,000 vehicles in mainland China, 56 percent more than the same period last year. Analysts say the China sales are also highly profitable for the company, because dealer and finishing costs are less than elsewhere.