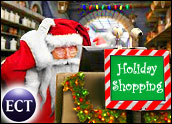 The game lover on your holiday gift list can be the easiest person to shop for. Just pick the latest, greatest sequel game and you're set. Not so this season. That's because new releases of this generation's game consoles — Microsoft's Xbox, Nintendo's GameCube and Sony's PlayStation 2 — are on their way to the old school scrap heap.
Microsoft already released the Xbox 360 a month ago, but it's sold out. According to NPD Group, 325,902 Xbox 360s were sold out in the United States in November. In Japan, where the console launched earlier this week and where Sony has a stranglehold on the market, about 62,000 boxes sold in the two days after the launch. That's less than half of those available.
Average consumers, or those who aren't avid gamers with disposable cash to plunk down on a game system as soon as it hits the stores, are waiting for Sony's PlayStation 3 and Nintendo's Revolution before taking the plunge, if they take it at all.
What to Buy
So what's a shopper to do? It's grim, but not completely hopeless depending on which console you're buying for.
"The new products for the GameCube and Xbox are primarily ports of titles coming out for multiple systems. The situation is worse for the GameCube because many publishers are releasing titles only for the PS2 and Xbox," a DFC Intelligence report stated. Those shopping for PlayStation 2 owners will have better luck with new titles, DFC's David Cole said.
This is borne out by U.S. sales figures for game software, which dropped 18 percent to about US$700 million in November compared with last year, according to NPD.
One great thing for those not on the cutting edge is that as games age, the software prices go down. So while a new software title costs US$50, a game that had its initial sales surge long ago can be had for less than half that price. Michael Arrington, senior analyst at Acacia Research Group, said this segment is likely to see some big changes down the road, but this season shoppers will have slimmer pickings.
"Long term we're going to see more goodies like PlayStation's EyeToy and the dance pads and similar items that let players interact more directly with games," he said. "Wouldn't it be nice if video games actually got kids to be a little more active? Also, with networking there will always be new possibilities for communication and interaction. Again, a little socialization would be a good thing for video game shut-ins."
The EyeToy is a digital camera that plugs into a PS2, allowing the gamer to become part of the action.
One Cool Game
While the console market may not be the place to find the coolest, latest gift, Cole is excited about another segment of the gaming industry.
"The handheld market is very exciting. One of the most innovative new technologies is the ability of handhelds to plug into WiFi networks," he said. "One of the hot new handheld titles is Mario Kart DS [for Nintendo's Dual Screen handheld gaming device and about $35]. This game can plug right into a home WiFi network, or with an adaptor, straight into a wired broadband network or it can be played at WiFi hotspots. It really works well. You just take your DS into a hotspot, turn it on and you are connected. To me, that makes it one of the most innovative products of the holiday season."
As the preteen set becomes more electronics-oriented, toy companies have been turning board games into games with computer chips. Simpler and less expensive options than game consoles and software include a host of single-function handheld games. They range from classics such as Milton Bradley's Hangman to the current craze of Suduko, although it's somewhat perplexing as to why electronics are necessary for a round of hangman or a Suduko number puzzle.
Electronics for Kids
As in the gaming market, the electronics market overall is in a season of incremental improvements. Video cameras, MP3 players and cell phones are all reaching down into the preteen set. Even Disney has jumped into the digital audio player market with $49 Mix Sticks, targeted at kids as young as six. With them, kids can either copy music from CDs or download from the Internet.
Then there's iZ by Zizzle and I-dog from Hasbro, both of which dance to music from a device connected to them by cable. iZ can be had for about $25 and i-Dog for $29. Hasbro also makes VCamNow, a 32 MB video camera aimed at six-to-twelve-year-olds. It holds about 480 pictures or seven minutes of video and costs $79.
MP3 players and iPods and related accessories remain hot. The biggest problem may be that Apple, as usual, is having trouble keeping up with the demand for its flash-based iPod Nano, the smaller, color-screen replacement for the Mini. A check last week on Apple's Web site found the 2 GB Nano available for shipping and the 4 GB on a two-week wait. That would postpone a delivery date after Christmas, but with a long shot of making it for the end of Hanukkah.
If you're really desperate, there's always the Furby, at about $30, which has made its way back onto the list of most popular toys this year.