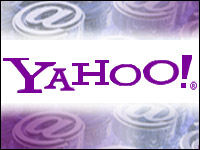 Yahoo, racing to stay ahead of its competitors who are eying the same technological niche and its potentially deep well of advertising dollars, has launched a public version of its video search tool.
Yahoo Video Search, which had been in beta form since December, was formally launched by the portal yesterday along with a slew of new partnerships that will beef up the vault of video clips that can be searched and viewed online.
Yahoo said the video tool now can be used to search entertainment content from CBS News, MTV and Buena Vista Pictures as well as news from CBS News and Reuters, Independent video fed into the site through Real Simple Syndication (RSS) can also be searched.
Video Ads
John Thrall, head of media search engineering at Yahoo, said the video tool blends "powerful media crawling, extraction and ranking technology as well as our broad relationships with content partners."
Many analysts say Yahoo, with its close ties to the entertainment industry — CEO Terry Semel was a Hollywood executive — has an inside track on capturing the lead in the video search field. While main search rival Google has a video search tool of its own, that product does not enable viewers to watch streaming clips directly, but instead shows them still images and directs them to the original source.
More importantly perhaps, analysts view video search as a potentially killer technology because it stands to pave the way for widespread delivery of video ads — possibly even identical to television commercials — over the Web. That could further fuel the already booming bottom and top lines of the major search companies and companies looking to the Internet to expand their branding efforts in a cost-effective, targeted way.
Now, These Messages
In addition to directly searchable video that can be viewed for free, Yahoo also said it has partnerships with TVEyes that provides access to business and financial news from the video arm of Bloomberg News. Also open for searching is a deep well of Yahoo's own content, including movie trailers and music videos.
Search Engine Watch editor Gary Price said the lack of streaming video in the Google option gives Yahoo a sizable advantage, one it might be trying to capitalize on by quickly getting Video Search to market, even as it is still developing content partnerships.
Morgan Stanley analyst Mary Meeker said recently that while the overall search marketing opportunity is huge and will continue to grow, video search offers unique opportunities to light a fire under the Web video advertising market. Yahoo is already a leader in that field, Meeker noted, and currently only about 10 percent of all streaming video downloads are delivered along with video ads.
Meeker also sees opportunities to monetize video search in ways that text search won't allow, with users likely willing to pay a nominal fee to watch certain proprietary video clips.
Inside Track
Google, Yahoo and to a lesser extent rivals such as Microsoft and Ask Jeeves have been rolling out similar search enhancements at a breakneck clip in recent months, from desktop search to local search, integrated maps and personal search features that enable users to save and recall past searches.
While many of those innovations and developments have been aimed at improving the user experience, video search stands out for the revenue opportunities that it represents, Forrester Research analyst Charlene Li said.
Other search areas offer a way to expand existing advertising programs, but video search could unlock an almost limitless market for video advertising, which has been used in small doses on the Web but stands to be expanded greatly.
Higher-Level Branding
Li told the E-Commerce Times that the majority of Web users now have broadband connections that make streaming video ads feasible, but at the same time, once captive markets for television advertising are growing increasingly segmented and difficult to reach.
"Advertisers have shown a desire to use the Web for higher-level branding," Li said. "Rich media advertising offers the best opportunity for doing just that."
In fact, Forrester has predicted that by 2010, 8 percent of all advertising spending will be directed to the Web, or about $26 billion a year, nearly the same amount now spent each on radio and cable advertising.