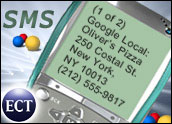 In a bid to drill into two fertile growth markets with a single service, Google has unveiled a version of its local search tool designed specifically for users of mobile devices.
The mobile version of Google Local went live this week and seeks to extend many of the same features available at the Web-based local search product to hand-held devices in a way that makes the transition seamless. The new product expands the possibilities for mobile commerce.
Following Yahoo
Like other Google mobile offerings — including a basic search function — the local product uses either mobile browsers or short messaging service (SMS) to deliver information such as driving directions and business listing information.
Jonathan Rosenberg, vice president of product management at Google, said the service will prove useful for users whether they are "traveling long distances or looking for a restaurant in their hometown" and will eliminate the "hassle of referring to paper maps, reference guides, or often outdated directories.
"Google's mobile search and Google SMS services are important advancements in our goal to provide users immediate access to valuable information anywhere and anytime," Rosenberg added.
The move comes about six months after Yahoo launched a mobile version of its Web, image and local search offerings. That service, which strips out bandwidth-hogging ads and other design features, offers users the ability to search the Web and to recall searches done on the desktop and stored online. It also has a keyword function that will immediately take users to the most likely results for a term.
Battle in the Air
The Google Local Web search offering presents mobile users with a screen with two boxes, one labeled "what" and the other "where" for entering a city or ZIP code. There's also a link for driving directions.
Results include 10 local services matching the location and a small map showing their locations and, if the user's phone supports it, links enable telephone numbers to be called directly.
Many analysts believe that combining local search listings with mobile accessibility is one of the holy grails of search because it has the ability to provide users with information that is immediately relevant. It's also information that's most likely to lead directly to commerce.
For instance, a user might use the search tool to pinpoint a restaurant in a strange city, narrowing his or her choices by using search terms and likely taking some of the guesswork out of the process.
The service is just the latest reminder of what one analyst calls a "war of attrition" among Web search companies to out-duel each other in terms of new services. Rarely does a day go by now without a new service or feature being rolled out by Google, Yahoo, MSN or one of the other major search players.
Ahead of the Curve
However, analysts said unlike other features and services, other search companies might not be in a position to roll out an answer to Google's mobile search upgrade.
"Unlike adding server space or partnering with a third party for another feature, developing robust services for mobile devices is not an easy proposition," Gartner analyst Phil Redman told the E-Commerce Times.
That might be one of the reasons that Google moved forward with both SMS and Web browser mobile features when it first launched last year, he added. "Most wireless operators have not yet provided the proper content or applications for integration on mobile handsets," Redman said. At the same time, having browser-ready mobile content is important because text messaging has yet to gain widespread acceptance except among teenage users, among whom it is wildly popular.