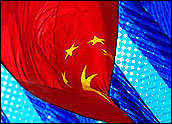 China further asserted its control over Internet information within its borders this weekend, announcing updated restrictions on online news services.
"We need to better regulate the online news services, with the emergence of so many unhealthy news stories that will easily mislead the public," a spokesman for the Ministry of Information Industry said at a news conference. A story from the government news service, Xinhua, also publicizes a Web site where Chinese citizens can report "unhealthy" stories.
There was no definition of what the government meant by "unhealthy," but Xinhua said, "The sites are prohibited from spreading news and information that goes against state security and the public interest."
Small News Sites in Trouble
The new rules require any Chinese publisher of online news to have at least five professional news editors with three or more years of traditional media experience and US$1.2 million or more in registered capital, effectively limiting upstart news sites from disseminating news.
Julian Pain, head of the Internet Freedom Desk for Reporters Without Borders, told TechNewsWorld that the restrictions on smaller news sites are unlikely to change much, since China has been restricting Internet information for years.
"It's not really new. They just want to scare people and online editors and remind them that these regulations apply," he said.
Warning to Content Providers
Rebecca MacKinnon, former CNN China correspondent and current research fellow at the Law School's Berkman Center for Internet and Society, said that the announcement does seem to try to reach further into limiting speech.
"There has been a murky gray area when it comes to commentary and analysis, and the new regulations appear to be a warning to Internet content providers to rein themselves in and police their content better, or risk consequences," she said.
While the government has signaled its intention to clamp down on online news, the regulations are not very clear, MacKinnon said.
"There is a lot of vagueness in these regulations — I've read them in the original Chinese. It's very unclear how the regulations will affect blogs, for instance. I imagine the vagueness is deliberate, enabling authorities to keep their options open." she said.
Easy to Censor Internet
But if they want to clamp down hard, the technology necessary to censor Internet content exists and is not difficult to apply.
"China is the most efficient at censoring in the international community," Pain said. "Even if you filter efficiently, some content might slip through. But if a government goes to the main search sites — Google, Microsoft, Yahoo — if they ask them directly, it's even easier to get them to [censor their search results]. For those companies that operate in China, they have to obey Chinese law. They have to do it."
Pain said that Google — which, according to the government-controlled China Internet Network Information Center, is the No. 2 search engine in the nation's three largest cities, behind Baidu.com — recently opened a research center in China. Such a move means that Google must now obey Chinese censorship laws.
Free-speech advocates did not expect the Chinese government to leave the Internet alone, Pain said.
"It's a means of communication. The mistake we made was to believe that the Internet would be uncontrollable. It's not true. It's even easier than controlling regular mail," he said.
If a company wanted to operate in China without obeying its restrictions, it would have to try to negotiate with the government before setting up shop, Pain said, but there's no guarantee concessions would be made.