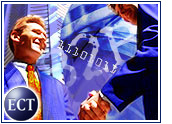 Mitsubishi Corporation and Commerce One (Nasdaq: CMRC) announced plans Thursday to establish a business-to-business (B2B) e-marketplace for the gas, chemical, and utilities industries in Japan.
"Unlike the U.S. where there is a great deal of interest in e-marketplaces, Japan has not seen a huge uptake in e-business," said Hajime Kimura, chief operating officer of Mitsubishi's eCommerce Division. "We intend to create a robust platform for electronic B2B that will provide access to global buyers and sellers in key vertical markets."
Inside the Marketplace
Toyko-based Mitsubishi said that it plans to link its brick-and-mortar business network to the new e-marketplace, which will be powered by the Commerce One MarketSite Portal Solution. Mitsubishi also said that it will become a member of Commerce One's Global Trading Web.
Like other e-marketplaces, Mitsubishi's will provide businesses with real-time buying and selling capabilities. It is expected that buyers will benefit from lower purchasing costs, while sellers will gain access to a large pool of potential new customers.
In addition to partnering with Commerce One, Mitsubishi said that it has established stronger ties among its subsidiaries to support its e-commerce operations. Those companies include Intec Communications, which provides network and system integration; e-CubeNet.com, Inc., an application service provider (ASP) for Web-based EC/EDI services; ASP Data Stations, Inc; CRM service provider BeWith; and Digital Direct Corporation, which specializes in Internet/TV online shopping.
"Our partners clearly see the potential of the e-marketplace," said Mark Hoffman, chairman and CEO of Pleasanton, California-based Commerce One. "We believe this agreement indicates the importance Mitsubishi places on leading Japan into this exciting arena and we look forward to working with them to automate businesses in these key verticals in Japan."
Mitsubishi's Other E-Commerce Activities
This partnership is not Mitsubishi's first venture into the world of e-commerce. In May, Mitsubishi Chemical announced that it was partnering with 11 other major chemical companies to form an international B2B e-commerce marketplace with a target market of about $400 billion.
Joining Mitsubishi in that venture are four United States companies: Rohm and Haas Co., Dow Chemicals Co., DuPont Co. and Van Waters & Rogers. Other participants include France's Atofina, Germany's BASF, Germany's Bayer, the United Kingdom's BP Amoco, Japan's Mitsui Chemicals, France's Rhodia and Japan's Sumitomo Chemical Co.
Mitubishi's MC Capital is also an investor in e-Steel Exchange, a privately held B2B steel e-marketplace that boasts over 1,300 members from 65 countries. The steel exchange is used primarily to buy and sell prime and non-prime steel products, including hot rolled, cold rolled, coated, plate, tin and rebar.