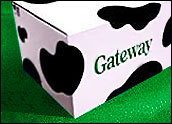 With rumors swirling that it will be acquired as the PC industry continues to consolidate, Gateway said Friday it had rejected an unsolicited bid to buy its retail operations for US$450 million.
Gateway said its board of directors had determined the offer was "not in the best interest of shareholders."
The all-cash offer came from Lap Shun Hui, the former CEO of eMachines, which merged with Gateway early in 2004. Hui said he believes the company needs to divest itself of its retail line in order to remain competitive.
Gateway did not close the door on further negotiations with the suitor or others, saying its board and management team "remain committed to taking the appropriate steps to enhance shareholder value."
Hui has said he would be willing to buy Gateway outright and split the company in two himself, though he has not formally offered to do so. At current stock prices, the value of all of Gateway's shares is around $730 million.
Given its relatively small size and limited access to cash, some type of a strategic sale may well make the most sense for Gateway. Analysts say the company simply can't compete on price, on marketing reach or in other ways with the likes of Dell, Hewlett-Packard and Lenovo otherwise.
Stuck in Neutral?
The offer comes as Gateway struggles to regroup after the departure of CEO Wayne Inouye last year. His departure came after the company's modest turnaround had fallen apart, with the company falling out of profitability.
Interim CEO Rick Snyder is running the company, which is said to be searching for a full-time replacement for Inouye, who departed in February.
Hui cited Gateway's inability to name a new CEO as one reason for his offer. A lack of a permanent leader, he said, "has left Gateway in a position where it is unable to clearly and credibly articulate its strategic direction to the market."
At the time of their merger in 2004, Gateway and eMachines together were the third largest PC maker in the world. Since then, Lenovo has leaped into the top tier of vendors by buying IBM's PC line and low-cost, overseas vendors such as Acer have also moved up the ranks.
In July, research firm IDC said Gateway saw double-digit sales growth in the second quarter, but still was well outside the top five worldwide vendors, which now includes Dell, HP, Lenovo, Acer and Fujitsu. Gateway remains a top 5 vendor in the U.S., where it still has traction in the K-12 and higher education markets, among other niches.
The merger with eMachines renewed Gateway's focus on the low-cost market. However, the move was perceived as a risk at a time when PC prices overall are dropping, companies such as Dell have stripped much of the manufacturing costs out of the PC-making process and when Chinese-based vendors were coming onto the scene.
Attractive Buy
For Gateway, however, matching price cuts is difficult because it cannot offer vendors and suppliers the same scale that rivals can.
"Dell and HP can get bigger discounts by buying in larger quantities," said Endpoint Technologies Associates President Roger Kay. "For Gateway, the scale to drive down the costs isn't there."
Gateway has had some success in moving into the notebook market aggressively, with some of its machines getting positive reviews, according to Kay.
Because of its relative strength in the U.S. market, Gateway could be an attractive acquisition target for overseas vendors who would use its distribution channels and brand name to get a foothold in North America.
Gateway became a force with its direct sales model and its down-home branding, shipping its PCs in boxes covered with cow spots meant to evoke its Midwest roots. It struggled to right-size itself after the dot-com collapse, however, shuttering hundreds of Gateway Country Stores and laying off thousands of employees.