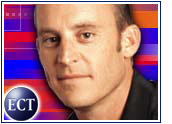 Gateway, Inc. (NYSE: GTW) was at US$21.16 early Tuesday, down 50 cents, after the computer maker said chairman Ted Waitt will return to managing operations at the company he founded 15 years ago, taking over as its chief executive officer.
Waitt replaces Jeff Weitzen, who is retiring after just a year at the helm of San Diego, California-based Gateway.
"I love Gateway, and I'm going to do everything in my power to make sure the company can grow and prosper in this challenging environment," Waitt said after the close of trading on Monday.
On Tuesday, Waitt named a new management team to help jump-start operations.
"We need to get off to a fast start, and we have a lot of work to do," Waitt said. "I am confident that the team we have in place will execute against our proven strategy in order to deliver continued success."
Joe Burke, previously Gateway's vice president for market development, becomes senior vice president and chief financial officer. He replaces John Todd, who is leaving the company.
Bart Brown will be senior vice president of Gateway Consumer, the division that sells consumer PCs and related products. Brown replaces Cliff Holtz, who is also leaving Gateway.
Waitt, 38, founded Gateway in 1985 with a friend, Mike Hammond, and a $10,000 loan guaranteed by his grandmother. The company, which grossed $100,000 in its first year, is now a $10 billion business.
Gateway shares are down from a 52-week high of above $75. The company, like others in the personal computer business, is struggling with a drop in demand for PCs over the past year.