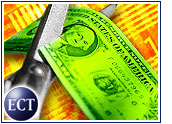 Gateway, Inc. (NYSE: GTW) plunged 109/16 to 18 15/16 in the first few minutes of trading Thursday after the computer manufacturer said fourth-quarter results will be well below Wall Street estimates.
Because of sluggish demand for personal computers (PCs) this holiday season,revenue for the quarter will be flat at about US$2.55 billion, $500 millionlower than previously expected, and earnings per share will be about 37cents, 25 cents below analysts' consensus forecast, the San Diego,California-based company said.
The company also set a charge for the quarter of $200 million, or 39 centsper share, to cover the write-down of its investments in technology-basedcompanies and other assets. After the charge, the company could report aloss of 2 cents per share.
Results for 2001 will be lower as well, Gateway said, as it slashed itsforecast for next year's earnings per share to $1.89 from $2.28.
"We expect consumer sales to continue ramping up this quarter, but it is nowobvious to us following the Thanksgiving weekend that they will not growsufficiently to allow us to meet previous consensus for EPS and guidance forrevenue," said chief financial officer John Todd.
"The economic slowdown, coupled with ongoing shifts in PC seasonality,clearly had a significant impact on our sales over the holiday weekend," Todd said. "Weexpect these issues will continue to have an effect on overall demand overthe next 12 to 18 months."
Analysts at Prudential Securities, Lehman Brothers and J.P. Morganreportedly downgraded Gateway shares after the announcement. Gateway's news,along with a similar warning of a fourth-quarter shortfall from chipmaker Altera Corp. (Nasdaq: ALTR), were said tohave spurred an early slide in the overall U.S. stock market as investorsworried about a slowdown in the economy.
Altera was down 3 5/16 at 22 5/8.