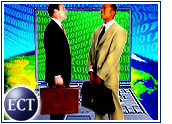 As the expiration date for a rival takeover bid from PC Connection (Nasdaq: PCCC) approaches, Fry's Electronics is back in the running to acquire struggling e-tailer Outpost.com (Nasdaq: COOL), Fry's disclosed Wednesday.
According to a filing by Fry's with the U.S. Securities and Exchange Commission (SEC), buyout talks with Outpost resumed earlier this week at the request of Outpost management.
Fry's currently owns about 3.5 million shares of Outpost stock, or about a 10 percent stake.
The San Jose, California-based electronics retailer, which operates stores in California, Oregon, Arizona and Texas, first offered to buy Outpost for US$22.2 million in cash in July.
That bid was withdrawn a month later, days before Fry's said it would buy most of the assets of now-bankrupt Egghead.com.
Deal on Rocks
Meanwhile, a stock-and-cash buyout offer for Outpost from PC Connection, worth as much as $25 million, has been on the table since May 29th.
Both sides in the proposed buyout have said that the deal is in jeopardy because PC Connection is not willing to waive a condition requiring that Outpost's net worth be at least $14 million at the time of closing. The original deadline for the deal was Friday.
Privately held Fry's said it will continue to "evaluate the business and operations" of Outpost but has not decided whether to move forward with a formal offer. Fry's also said in its SEC filing that PC Connection is "involved" in the ongoing talks.
Last-Ditch Efforts
Kent, Connecticut-based Outpost entered the e-tail arena with a splash six years ago, quickly gaining recognition for its offbeat advertising and even more so for its free overnight shipping policy.
While Outpost has changed course on that policy several times, nothing has been able to turn a tide of financial losses into profits. Outpost cut about 30 percent of its workforce in April, after reporting a $9.5 million loss in its fiscal fourth quarter 2001.
Egghead on Board
Fry's, which does not have its own e-commerce operations but offers Internet service through its Web site, reportedly agreed to pay about $10 million for Egghead's Web site and other intellectual property and inventory.
That deal — which came after Egghead said its sales had fallen to a point where hoped-for fourth-quarter profits would be impossible — is expected to close by the end of September. However, the acquisition requires the blessing of the judge overseeing Egghead's bankruptcy proceedings.