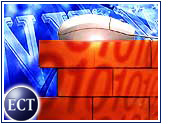 Egghead.com announced Wednesday that it is selling its assets to Silicon Valley-based brick-and-mortar retail chain Fry's Electronics as part of a Chapter 11 bankruptcy filing.
The Egghead Web site will remain open for business until the assets sale is complete, the company said. Fry's, which does not currently offer an online store, is expected to run Egghead's site after the bankruptcy proceeding clears.
Egghead said it has laid off all but approximately one-third of its employees, who will remain on board to oversee the transition to Fry's. According to Egghead, assets not purchased by Fry's are expected to be sold under Bankruptcy Court supervision.
The transaction with Fry's should be completed by the end of September, Egghead said.
"We regret having to take this action, which was forced on us in recent weeks by a dramatic and unexpected decline in sales," Egghead president and chief executive officer Jeff Sheahan said. "That made it impossible to reach profitability in the fourth quarter. We investigated a number of alternatives and were pleased with Fry's offer to purchase the assets of the company and continue running the business."
Real World Presence
Fry's Electronics was founded in 1985 in Sunnyvale, California. The company currently has six stores in Northern California, six in Southern California, three in Texas, two in Arizona and one in Oregon.
Fry's stores sell computer hardware and software products, technical books, electronic components and accessories, audio, car audio, video, telecommunications, appliances, personal electronics, CDs, and DVDs. Fry's also serves as an Internet service provider (ISP).
"The Egghead management team and associates have done an excellent job of building a strong brand and sizable online business, which enables us to move online quickly with a robust and proven site," Fry's chief executive officer John Fry said.
Scrambled Efforts
Egghead had been trying diligently over the past six months to solidify its financial position and remain a competitive player in the market for Internet-based sales of electronics.
In July, Egghead handed over the reins of the auction portion of its store to dynamic pricing services provider FairMarket (Nasdaq: FAIM). According to a recent report by Nielsen//NetRatings and Harris Interactive, Egghead's auction site held a 4 percent share of the online auction market.
The company has also been reducing its workforce. In addition to the 77 people laid off in March, another 178 were let go in early April. Egghead did receive a cash infusion of US$20 million from IBM's commercial financing wing after its first round of layoffs, but that apparently was not enough to save the day.
Egghead had also moved all but its senior executives to Vancouver, Washington, exiting the pricey Silicon Valley area, where Egghead had set up shop to be near the epicenter of the tech boom and close to venture capital outlets.