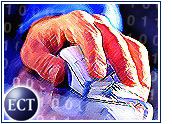 In an effort to stay focused on selling its core technology products, Egghead.com (Nasdaq: EGGS) is handing over the reins to the auction portion of its online electronics store.
Egghead will now pay dynamic pricing services provider FairMarket (Nasdaq: FAIM), which has lost several major clients over the past few months, including Microsoft, to host and maintain its auction site using FairMarket software, FairMarket said.
AuctionWatch.com chief operating officer Dan Neary told the E-Commerce Times that he does not see anything in the new relationship yet that would attract new buyers.
"That's most likely a cost savings move on [Egghead's] part, and not necessarily something that will drive sales," Neary said. "Longer term, they are faced with an issue of liquidity (of sellers and buyers), and to the extent that the major players like eBay, Amazon, and Half.com are dominating the space, it will be really difficult for someone like Egghead to have a viable (auction) business."
However, Neary said that if Egghead were to join FairMarket's auction network, or offer its products through eBay (Nasdaq: EBAY), that could be a different story. As part of a deal with eBay struck earlier in the year, FairMarket helps some of its clients with eBay listings.
One Of the First
Egghead launched one of the first auction sites on the Net in 1995. According to a recent report by Nielsen//NetRatings and Harris Interactive, Egghead's auction site holds a 4 percent share of the online auction market.
"Originally we had believed the (online auction) marketplace would fragment and there would be several players, but that is not the way the market has evolved," Neary said. "Egghead has the seller part of the equation done, but how do they attract buyers when more and more (over 90 percent) of the buyers are going to eBay?"
Egghead touted its new FairMarket auction features on its Web site, including a "Countdown Clock" that shows users the amount of time remaining in a specific auction, and "auction agent" notifications letting customers know when an item they are interested in is up for bids.
"Teaming with FairMarket allows us to maintain and even potentially grow our auction business while we focus on our core business — the direct marketing of technology products to the small and medium-sized business marketplace," said Egghead senior vice president Merle McIntosh.
Still Evolving?
Egghead began as a struggling brick-and-mortar software retail chain before moving its entire business online. More recently, the company has shifted its focus away from selling to consumers. Instead, Egghead is targeting the small and mid-sized business marketplace.
Handing its auctions over to FairMarket is one of several moves Egghead is making in an attempt to solidify its financial position and remain a competitive player in the market for Internet-based sales of electronics.
Broken Egg?
In June, the company learned it was in danger of becoming delisted by Nasdaq. Egghead's board of directors approved a reverse stock split that month designed to boost the profile of Egghead's lagging stock, which has not traded above the $1 level since May 9th. However, the proposal has not been brought before shareholders, Egghead said.
The company has also been reducing its workforce, laying off 77 people in March and another 178 in early April.
Egghead received a US$20 million cash infusion from IBM's commercial financing wing after its first round of layoffs.