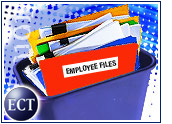 Two weeks after announcing it was laying off 77 employees to cut costs, computer software and hardware e-tailer Egghead.comsaid its chief financial officer, John Labbett, is leaving to "pursue a new opportunity closer to his home in Los Angeles."
Egghead has been struggling considerably of late, but Labbett is not leaving the company completely in the lurch. On March 7th, two days after the layoffs, Labbett said that Egghead secured US$20 million from IBM's commercial financing wing.
"John has done an admirable job in his role as CFO, and we are pleased thathe was able to stay and complete several key financial objectives, includingthe securing of the IBM financing line," Egghead president andchief executive officer Jeff Sheahan said.
In addition to Labbett, Egghead said that its senior vice president of sales, Norm Hullinger, will be leaving the company as well.
Farm Fresh
Egghead's new CFO will be Mark C. Shepherd, who most recently served as managing partner and CFO of 54th Street Partners, a consulting firm he co-founded.
The online electronics e-tailer also announced the hiring of Robert S.Islinger as the company's senior vice president of marketing and EileenCharlton as vice president of finance.
Heading South?
Shares of Egghead, which have fallen 93 percent over the past year, fell3 U.S. cents to 66 cents on news of the executive departures.
The stock hit a 52-week low of 50 centson January 2nd. The company fell below the $10 barrier for good on March 17, 2000, and has not risen above $1 since February.
In January, the company warned that sales for the fourth quarter of 2000would fall below expectations, blaming "a softening of consumer demand forpersonal computers and related technology products." Revenue for 2001 isexpected to be between US$91 and $93 million, below previous projections, the company said.
Northern Exposure
Last September, the company announced it would be moving approximately 20percent of its staff from Silicon Valley to Vancouver, Washington in anattempt to achieve profitability.
Egghead said at the time it hoped thatby moving certain key jobs out of Silicon Valley would make it easier torecruit and retain employees, as well as reduce costs.
"Retaining star employees can be very difficult in Silicon Valley," BillSkinner, vice president of human resources for Egghead, said then.