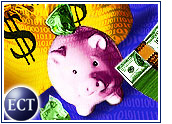 Two days after cutting 12 percent of its workforce, computer and software e-tailer Egghead.com (Nasdaq: EGGS) said it had secured US$20 million from IBM's commercial financing wing.
Egghead said Wednesday that the loan from IBM Global Financing was secured with its inventory, accounts receivable and other assets and will help inch Egghead toward the black.
"Based on our cash position at the beginning of the year and this new financing, we believe we will have sufficient funds to take us through to profitability," Egghead chief financial officer John Labbett said.
Egghead had previously targeted the fourth quarter of 2001 for turning its first profit. Labbett added, however, that the company was "continuing to explore other financing options in order to maintain a solid cash balance."
IBM Global Financing generated more than $46 billion in annual financing originations last year and more than $44 billion in 1999, according to IBM.
Fewer Jobs, Lower Stock
On Monday, Egghead announced that it was cutting 77 jobs, including 40 from its Menlo Park, California headquarters and 37 from corporate offices and a distribution center in Vancouver, Washington.
Egghead chief executive officer Jeff Sheahan said the move was part of a plan to "sharpen the focus on our business customers," as Egghead goes after the small- and home-office market for computer hardware and software.
Egghead stock has hovered around or below the $1 level for several weeks, raising the possibility that the stock will be delisted from the Nasdaq — an often fatal blow to a publicly traded company. Early Wednesday, Egghead was trading at 88 cents, up 6 cents.
The stock hit a 52-week low of 50 cents on January 2nd. Egghead's 52-week high came nearly 52 weeks ago, when it reached $10.50 on March 17th.
No More Bricks
Egghead made news in 1998 when it closed its 84 retail stores and laid off hundreds of workers to become a pure-play e-tailer. At the time, moving onto the Web was seen as a less expensive alternative to expanding its store network to compete with book and computer superstores.
The online store has held its own in the cutthroat online electronics category. In recent rankings by Forrester Research, Egghead ranked fourth behind Buy.com, Amazon.com and BestBuy.com.
Recent Turbulence
However, Egghead has had its share of woes, especially in recent weeks. In January, the company warned that sales for the fourth quarter of 2000 would fall below expectations, blaming "a softening of consumer demand for personal computers and related technology products."
Earlier, Egghead revealed that it had been the target of repeated hacker attacks, but announced after an investigation that no credit card information had been stolen, as was initially feared.