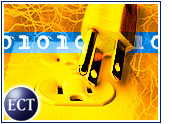 Northern California buckled under the impact of rolling blackouts for thesecond day in a row Thursday, but Internet retailers based in the Silicon Valley say they have not suffered any power outages or lost sales — yet.
Walmart.com, which is based just outside San Francisco, said the crisis has had no immediate impact on traffic or sales and that its office and site have not experienced any blackouts.
"We have not seen any effects," a company spokesperson told the E-Commerce Times. "Our sales in California over last few days have actuallyparalleled national sales."
According to the California Independent System Operator (ISO), Thursday'sblackouts affected about 1 million utility customers.
Kellan Fluckiger, chiefoperations officer of ISO, said there should be enough available electricity to meet demand through the weekend if "nothing else changes or breaks, and ifconservation stays in effect."
The crisis is expected to last 5 to 14 days, the ISO said.
E-Commerce Still Lit
"To the best of my knowledge, the power outage hasn't had an impact on our sales," Egghead.com spokesperson Joanne Sperans Hartzell told the E-Commerce Times.
According to Egghead, its office and site have not been affected by the energy crisis.
Likewise, Kmart's Bluelight.com spokesperson Abigail Jacobs said that its e-commerce site has not seen any changes in sales as a result of the blackouts. Jacobs also said the company, which is based in San Francisco, has notexperienced any outages as yet.
Crisis State
Despite the relative calm among West Coast e-tailers, California is facing an energy meltdown.
Hard on the heels of Wednesday's rolling power blackouts in the northern part of the state, California Governor Gray Davis declared a state of emergency late Wednesday night.
Because of what has now been judged a disastrous experiment in gas and electric deregulation, California's power companies are in dire financial straits. Many experts believe the situation could grow more serious, plunging the entire United States into its worst energy crisis since the 1970s.
Utility.com Goes Out
The energy crisis has already produced one new dot-com casualty, as Emeryville, California-based Utility.com announced Thursday it is ending its energydelivery service due to skyrocketing costs caused by the recent California Public Utilities Commission (CPUC) rate hikes.
The company now plans to change its business model and provide software to major utility companies as anapplication service provider (ASP), according to published reports.
Customers of Utility.com will reportedly have to get their power from either Pacific Gas and Electric or Southern CaliforniaEdison, both of whom recently announced fee hikes to combat the energycrisis.