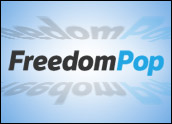 Homing in on consumers' frustration with the escalating costs of wireless services, FreedomPop this week announced a mobile plan that offers voice, text and data — for free.
The FreedomPop service, which will be available starting this summer, utilizes mobile VoIP on Sprint's cellular network. The company will offer a number of Android phones for purchase, or subscribers can use their own compatible phones.
Premium Services
Each subscriber will get 500 MB of 4G data, unlimited texting and 200 anytime minutes each month. Unlimited calling is allowed between FreedomPop subscribers.
While "free" is the big attraction of FreedomPop's offer, the company also will offer paid service tiers for those who want higher data or voice allowances each month. Unlimited voice starts at US$9.99 per month; 500 minutes per month would cost $5.99.
The data plan is in line with FreedomPop's high-speed Internet offering announced in December.
Voice Over LTE
The key to FreedomPop's mobile virtual network operator, or MNVO, is that all of its services, including voice, will be delivered as data flows. Known as "VoLTE," the system is similar to VoIP in concept.
"This is the direction that mobile carriers are moving with their LTE networks — VoIP or VoLTE — using the data channel instead of the traditional circuit switched network to transport voice," Ritch Blasi, senior vice president of mobile and wireless at Comunicano, told the E-Commerce Times.
Two issues, he noted, are likely keeping major carriers from offering VoLTE or similar services: quality of service, which is inferior to circuit-switched network calls; and limited availability.
"Additionally, if voice calls are going over the data channel, that means that the 500 MB of free data is going to be used up," said Blasi, who noted that Skype and other VoIP services are bandwidth hogs "and can eat through a data plan pretty quickly."
Easy Come, Easy Go
Five hundred MB is not a significant allotment of data, even if it should be the case that voice calls would be counted separately. Many users are likely to find they require a larger monthly allowance.
"It's a great offer if you stay within what you've signed up for, especially the 500 MB. I think people may become quite surprised when they blow through it," Roger Entner, principal analyst at Recon Analytics, told the E-Commerce Times.
"This is the free teaser offer; 500 MB is quickly exhausted," Entner said. "The average person uses 2G. It's a great offer for people who don't use it a lot."