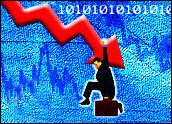 A grand jury has indicted former WorldCom chieffinancial officer Scott Sullivan and Bernard Yates,the company's onetime director of general accounting,on seven counts associated with their roles in the "misplacement" of nearly US$8 billion worth of WorldCom funds.
The jury handed down one count of fraud against Sullivan, which means he could be sentenced to up to five years in prison and a $250,000 fine. Each of the remaining charges, which center on securities fraud and false filings, carries up to 10 years of prison time and $1 million in fines.
If Sullivan does not settle the case, he will facetrial in New York.
Jailhouse Rock
Calling the indictments of Sullivan and Yates "theresult of sustained law enforcement actions aimedat protecting the savings and pensions of Americans,"U.S. Attorney General John Ashcroft said that "with each arrest, indictment and prosecution, we send this clear message: Corrupt corporate executives will be punished."
Moreover, Ashcroft pledged, "The Department of Justice iscommitted to ensuring that corporate executives neverprofit by victimizing their own employees andinvestors."
A Few Key Players
The indictments represent the latest phase of an investigation that aims to net the tight group of "co-conspirators" who cooked WorldCom's books, curbed investor confidence and led thetelecommunications giant into bankruptcy.
Giga Information Group analyst Lisa Pierce told the E-Commerce Times that given the way the probe is unfolding, she believes the WorldCom fraud scheme was a "tightly wrapped" effort executed by a few key players.
Indeed, the indictment noted that Sullivan and Yates, along with David Myers, Betty Vinson, Troy Normand and possibly others, conspired to hide WorldCom's true financial state and did not inform auditors from Arthur Andersen that WorldCom had begun to capitalize third-party line costs.
Conspiracy Theory
According to the indictment, in October 2000, Sullivan "determined that WorldCom's expenses as a percentage of revenue were too high to meet analysts' expectations and were substantially higher than management's previous 'guidance' to professional securities analysts and members of the investing public."
In an effort to meet Wall Street expectations, Sullivan instructedMyers and others working for him, including Yates, Vinson and Normand, "to falsely and fraudulently book certain entries inWorldCom's general ledger, which were designed to reduce [the company's] reported line costs and thereby increase WorldCom's reported earnings."
Sullivan is accused of telling the others to "makejournal entries crediting line cost expense accounts."He also allegedly directed them to "debit, in amounts corresponding to the line cost credits, various reserve accounts on WorldCom's balance sheet, such as accrued line costs, deferred tax liability and other long-term liabilities."
The executives' efforts reduced WorldCom's line costs by about $828 million and boosted the company's reported earnings by that amount in the third quarter of 2000. The group allegedly engaged in similar activity in early 2001 to the tune of another $407 million.
Prosecutors reportedly intend to target Myers, Vinson and Normand next.