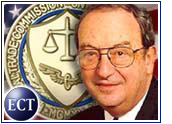 The U.S. Federal Trade Commission (FTC) announced Monday that operators of over 180 Web sites offering "credit repair" services were put on notice that their claims may violate state and federal laws.
The crackdown comes after investigators from over 45 government law enforcement agencies and private consumer protection groups spent a day in July surfing the Web looking for credit repair ads that appeared to be making deceptive advertising claims or promoting illegal schemes.
FTC Midwest Regional Director Steven Baker told the E-Commerce Times that credit repair scams have been a concern for many years. According to Baker, repair schemes have "made themselves a home on the Internet."
"The bad thing about these schemes is that they take advantage of people who are down on their luck financially," Baker added.
The Sting
Agencies involved in the sting operation included the FTC, the U.S. Department of Justice (DOJ), 29 Better Business Bureaus, and the National Foundation for Credit Counseling.
Also participating were state officials from Arizona, Illinois, Missouri, Ohio, Connecticut, Oklahoma, Delaware, Michigan, Minnesota, Pennsylvania, and Texas.
False Promises
According to the FTC, the credit repair sites made a variety of false claims, including "guarantees" that they could remove negative information from credit reports, even if the negative information is accurate and timely. Another promise was that it is "perfectly legal" for consumers to establish a false Social Security number in order to "start fresh" with a new credit identity.
"I'd like consumers to remember three things about credit repair," said Jodie Bernstein, Director of the FTC's Bureau of Consumer Protection. "First, accurate and timely negative information cannot be removed from a credit report in an effort to repair it. Second, it's not only a bad idea to try to create a new credit identity using a false Social Security number, it's also illegal. And third, when it comes to credit repair, only time and a personal debt repayment plan will improve your credit report."
E-Mail Warnings
Sites identified during the credit repair surf day received letters and e-mail warnings that said, "This electronic mail is intended to notify you that credit repair advertisements may violate Section 5 of the Federal Trade Commission Act, which prohibits deceptive advertising."
The warning went on to say, "We have not determined whether your online advertisement(s) violate any of the laws we enforce. However, we have copied and preserved your online advertisement(s) for future reference." Operators were strongly urged to stop any "deceptive or fraudulent credit repair activities" and urged them to familiarize themselves with the applicable statutes.
FTC spokesperson Claudia Bourne Farrell told the E-Commerce Times that the FTC has found that Internet surf days are a "pretty effective law enforcement tool." She said that after the FTC previous Internet surf days for other types of scams, "a good percentage of operators changed their claims or took their sites down."
The Beat Goes On
The FTC's Baker said the FTC will continue to monitor sites identified during the sting operation, with violators subject to fines of up to $11,000 (US$) per day, per incident.
However, Baker added that the FTC will most likely push for victim restitution in lieu of fines.