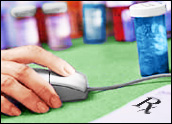 A federal grand jury in San Diego has indicted 18 people involved in an Internet pharmacy that took in US$126 million from the illegal sale of prescription drugs, Assistant Attorney General Alice Fisher of the Criminal Division and U.S. Attorney for the Southern District of California Karen Hewitt announced Thursday.
Among those charged in the 313-count indictment were three physicians, two pharmacists, one pharmacy operator, a credit card processor and the operators of eight Web sites affiliated with Affpower, an online pharmaceutical distribution network with operations in the United States and abroad.
The defendants were charged variously with racketeering and conspiracy to commit racketeering; distribution and dispensing of controlled substances and conspiracy to distribute and dispense controlled substances; mail and wire fraud, and conspiracy to commit mail and wire fraud; conspiracy to commit money laundering; and conspiracy to dispense and dispensing of misbranded drugs with the intent to defraud and mislead.
If convicted, they face between three and 20 years in prison for each of the many charges, along with millions of dollars in fines.
Global Operation
"The fraudulent and illegal sale of prescription drugs over the Internet poses a serious threat to the health of Americans who turn to the Internet in their need for pharmaceuticals," Fisher said. "The defendants allegedly exploited that need and provided little or no doctor review while prescribing possibly dangerous drugs, even as they generated millions of dollars in revenues for themselves."
Affpower — with administrative headquarters in Costa Rica, accounting and computer servers in Cyprus, and a credit card processor in Israel — allegedly received more than 1 million Internet orders for controlled and noncontrolled prescription pharmaceuticals from customers in all 50 states between August 2004 and June 2006.
According to the indictment, the drugs were sold through numerous Web sites to customers without prescriptions; a group of doctors affiliated with the site were paid $3 per order to issue prescriptions based on customer answers to a simple questionnaire. The doctors had no contact with the customers for whom they wrote prescriptions, and typically reviewed hundreds of orders per day, the indictment charges.
The doctors allegedly wrote prescriptions that were inappropriate or dangerous for a particular customer on some occasions, and in some cases, orders were never reviewed by a doctor at all, but were instead approved by a nonphysician member of the Affpower staff who had allegedly stolen the identity of a licensed physician and issued prescriptions in his or her name.
'Heartening News'
"These indictments are heartening news of combined government efforts to protect the public by stopping online prescription drug trafficking," Susan Foster, vice president and director of policy research and analysis at The National Center on Addiction and Substance Abuse (CASA) at Columbia University, told the E-Commerce Times.
"While these sites are difficult to track because they can keep changing their Web addresses or operate offshore, the San Diego decision shows that it can be done," Foster added.
Indeed, such enterprises are generally set up with operations around the globe "such that it's almost impossible for individuals to be caught," David Festinger, senior scientist with the Treatment Research Institute, told the E-Commerce Times. "It's refreshing to know that law enforcement can get a hold of these thugs."
The indictments provide further evidence that the Internet is emerging as a new channel for drug dealers, Festinger added. Between the ease with which controlled substances can now be purchased online, and the relative anonymity with which they can be obtained, the Internet represents an important development in the sale of illicit drugs, he said.
The New Predators
"These types of sales are no longer relegated to the back alley or require close association with 'the fringe,'" Festinger explained. Particularly when it comes to controlled pharmaceuticals with real, medical names such as Vicodin, the result may be the feeling for users of a legitimate, medical transaction, he added.
That's especially worrisome for children and adolescents, Festinger said. "Each day millions of youth access the Internet and risk being exposed to online drug sellers, which we consider a new type of predator," he said.
Controlled medications are now even outpacing traditional illicit drugs such as heroin or cocaine in the rate at which they are abused. "In general, the figures for using pharmaceutical narcotics are staggeringly high — much higher than anything else," Philip Heymann, professor of law at Harvard Law School, told the E-Commerce Times.
The Overseas Challenge
"These drugs are readily available online, and it's very important that online pharmacies be forced to demand prescriptions for them," Heymann said.
Of course, it remains to be seen how well organizations like the Drug Enforcement Administration (DEA) can cope with online pharmacies that operate entirely from overseas, he added.
"I continue to think the big problem is and will be overseas pharmacies," Heymann concluded. "The real coup will be when we have a system for dealing with them."