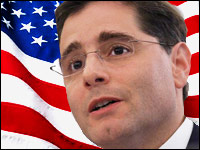 The Federal Communications Commission (FCC) is expected to propose rules Thursday that will require wireless phone carriers to alert customers by voice or text message when they have reached their monthly usage limits. The FCC wants carriers to send this alert before customers incur extra charges.
At the Thursday meeting, FCC Chairman Julius Genachowski will propose the commission's "consumer empowerment agenda," which is aimed at ensuring that users of technology will not have to worry about hidden costs or confusing billing practices — that is, "bill shock."
The FCC did not respond by press time to the E-Commerce Times' request for information on the proposed rules.
An End to 'Mystery Fees'
"When consumers get their bill, they can be surprised by unexpected fees, some large and some small," Genachowski noted at a Center for American Progress event on Wednesday. "Further down the road, if they decide to switch services, they are sometimes surprised to find themselves paying new fees."
"Mystery fees" — charges that consumers are not aware of and that in some cases are not authorized — are very common, said the chairman.
"Last week, it was reported that Verizon Wireless mistakenly charged mystery fees to more than 15 million Americans, resulting in overcharges of more than 50 million dollars," Genachowski pointed out.
Keeping track of cellphone voice minutes is fairly easy, but measuring data usage is difficult. With the recent explosion of data use on smartphone, consumers are increasingly vulnerable to unexpected charges. The FCC wants carriers to help consumers understand when their data usage pushes past the monthly limit.
"Most people don't know what a megabyte is, but they do understand when they get an alert telling them they're about to go over their limit and incur additional charges," said Genachowski.
What Will New Rules Entail?
New rules from the FCC might require carriers to let consumers know when they're at risk of overages, and "the consumer would then have to approve going over that amount," Allen Nogee, principal analyst for wireless technology at In-Stat, told the E-Commerce Times.
However, "they may not go that far," he said. "They may just ask carriers to put in warnings when consumers get close to their limits."
The FCC may also require the carriers to provide more consistent and comprehensible billing information.
"I think you may see standardization in how bills are laid out," Chris Hazelton, research director for mobile and wireless at the 451 Group, told the E-Commerce Times. "You may also see limitations on overage fees — perhaps a consistent percentage cap for overages."
Pushback From the Carriers
Service providers are not likely to take kindly new regulations governing how they bill consumers.
"The carriers will say they're seeing massive growth in usage and they are facing significant investment in infrastructure," predicted Hazelton. "They are also investing to increase user data as they change from 3G to 4G. The carriers will push back, and they have a strong argument."
The carriers may also push back because new rules could eliminate a profitable revenue stream.
"Carriers make a lot of money on overage fees," noted In-Stat's Nogee. "You may pay about (US)$5 for 400 megabytes, but the next 400 megabytes could cost you $100. Operators won't be happy to give up that revenue."
Will the FCC Succeed?
The success of the FCC proposal may depend on the lobbying efforts of the carriers.
"Carriers have a lot of pull in a lot of areas and there are a lot of politics going on," said Nogee. "I think it will succeed after it's watered down. But things are going in the direction of regulation, so something will pass. What's amazing is that it's taken this long."