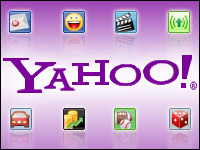 Starting this week, people who use both Yahoo and Facebook can link their accounts and share updates with friends across both networks, Yahoo announced on Monday.
Representing the next phase of a partnership Yahoo forged with the social networking site last December, the newly tightened integration also means that users who connect their accounts can consume their Facebook News Feed on the Yahoo homepage, in Yahoo Mail, and via other Yahoo sites and services.
Those who create and share content on Yahoo sites, meanwhile — including Yahoo News, Flickr and omg! — can easily share their actions with friends back on Facebook.
Users need only go to Yahoo Mail or the Yahoo homepage to connect their Yahoo account with Facebook. Additional integrations will be forthcoming later this year, Yahoo said.
Yahoo Pulse
Along with the Facebook integration, Yahoo announced that it has revamped its Yahoo Profiles service for managing user identities and activities.
The refreshed service, renamed "Yahoo Pulse," aims to make privacy settings easier to use and give users a central dashboard for managing what they share on Yahoo from the external social accounts and apps that they have linked to Yahoo, starting with Facebook.
"Our vision is to provide a central hub for people's online lives, and we understand that requires a Web you can trust," explained Jim Stoneham, Yahoo's vice president of communities, and Cody Simms, senior director for its social platforms and Yahoo Developer Network, in a company blog post.
'The Best of Both Worlds'
Yahoo's move is "brilliant," Lon Safko, social media entrepreneur, consultant and coauthor of The Social Media Bible, told the E-Commerce Times. "I think strategic partnering is always a great strategy."
The logic behind the move "comes from the old adage, 'If you can't beat them, join them!' — and that adage works," Safko explained. "Anytime I start a new business entity, I look at the largest competitors and make them partners, affiliates, contributors. This way you disarm them as competitors."
Yahoo has been losing ground for nearly a decade, Safko pointed out. "Failed attempts at acquisition and loss of market share have caused their stock to plummet and remain there," he added. "Other than providing a home page, Yahoo hasn't really provided any additional value."
Now, through the partnership with Facebook, "they get traffic, and traffic directly relates to revenue," he noted. "It's the best of both worlds: Yahoo doesn't have to develop their own offering. They don't have to compete with the Facebook giant — they simply clamp on to Facebook's success, and garner revenue by association."
'Smart and Perhaps Even Necessary'
Indeed, "this integration has been on Yahoo's road map for some time, I suspect," Greg Sterling, founder and principal with Sterling Market Intelligence, told the E-Commerce Times. "Generally speaking, it's a smart — and perhaps even necessary — move for Yahoo, given Facebook's rise and challenge to the portal."
Facebook has come under fire in recent months for the many changes it's made to its privacy controls, but that's unlikely to have been a factor in the timing of Yahoo's own announcement, Safko asserted.
"Personally, I don't think the timing was based on Facebook's faux pas because the continued success of Facebook will mean continued traffic and revenue for them," he explained. "They should wish Facebook well and support them."
Additional Scrutiny
As for any risk of increased privacy vulnerabilities by association, "Facebook and Yahoo will still maintain their own respective member databases as well as their own privacy policies," Safko said. "The integration only means easy integrated access to both social sites. Yahoo users will still have all of the security that Yahoo has always provided."
There's not much Yahoo can do about Facebook's privacy issues "except to make its own privacy controls very simple and clear," Sterling agreed. "It has tried to do that."
The privacy question "will be raised, and Yahoo's controls scrutinized in a way they might not have been in the absence of Facebook's privacy controversy," he predicted.
Still, "I don't think that Yahoo will face the same degree of criticism for this that rivals have faced," Sterling added. "The company has been fairly mindful of privacy and external perceptions and concerns."