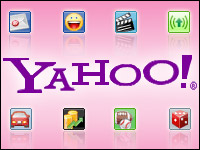 One of the most popular game providers on Facebook cut a deal Wednesday to bring its entertainment wares to Yahoo.
Zynga — known for its infectious social media diversions "Farmville" and "Mafia Wars" — announced a partnership with Yahoo that will expose the gamemaker's offerings to the aging portal's more than 600 million users, although some of those users are also Facebook members.
No financial details of the pact were made public by the companies, and the games aren't expected to appear in Yahoo universe for several months.
"Yahoo is focused on providing compelling, personally relevant experiences and social games are core to this experience," said Yahoo Executive Vice President Hilary Schneider.
"Zynga will bring top-notch social game experiences to Yahoo," she continued, "including through our open platforms such as Yahoo Application Platform and Yahoo Updates.
"Yahoo will also continue to work with other partners, developers and publishers to bring compelling innovations and experiences from across the Web to our users," she added.
Surpassing TV
The deal also won praise from Mark Pincus, founder and CEO of Zynga. "With over 35 million unique users playing our games every single day, social games are fast becoming a leading source of entertainment worldwide surpassing most television shows," he said.
"Our partnership with Yahoo gives millions of new users the ability to connect with friends and families through games," he added.
Executives from the companies were not immediately available for further comment to the E-Commerce Times about the agreement.
The accord will be mutually beneficial to both companies, maintained Justin Smith, founder of theInside Network, which includes Inside Facebook and Inside Social Games.
"This is a win-win for both companies," he told the E-Commerce Times. "Zynga gains more distribution, enabling it to reach millions more potential players of its games, and Yahoo gains more engaging content, keeping people on Yahoo sites longer."
Cashing In on Cachet
Not all observers, though, believe the benefits of the pact were so evenly apportioned. "Yahoo is trying to appear relevant again," said Rob Enderle, president and principal analyst of the Enderle Group.
"By connecting to [Zynga], it can appear to be relevant again by doing something with a company that looks to be cutting–edge and trendy," he told the E-Commerce Times. "It provides a certain amount of cachet for it.
"This is more important to Yahoo because it helps its image a lot," he said.
The move is part of Yahoo's campaign to associate itself with technologies that are current and interesting, he explained. It's been doing that primarily through acquisitions. "That's a faster path than trying to do it organically," he opined, "because it's tough to get people to change their minds."
Nevertheless, the benefits to Zynga can't be denied. "It gives it additional reach beyond being a Facebook gaming company," Leigh Alexander, news director at the gaming website Gamasutra, told the E-Commerce Times.
"If you're trying to populate the Web elsewhere," she added, "then being on more platforms is good for anybody."
Weaning Off Facebook
With its new partner, Yahoo, the question remains how the deal may affect Zynga's relationship with its old partner, Facebook.
That relationship hit some rough water recently when the companies clashed over revenue sharing. However, the pair appeared to have kissed and made up when they announced a five-year "strategic relationship" agreement last week.
Asked whether the Yahoo accord would ruffle feathers at Facebook, Alexander guessed, "Probably not.
"I don't think that Facebook ever expected exclusivity," she added. "I don't think Facebook loses anything by Zynga being on other platforms."
For certain, though, Zynga gains something by teaming up with Yahoo.
"Zynga wants to diversify its distribution channels, so that it's less reliant on any one partner," Inside Network's Smith explained. "Yahoo is obviously a very large platform, and it will likely become an increasingly important one for Zynga, which to date has been primarily dependent on Facebook to reach users."
Facebook, through a spokesperson, declined to comment on the deal to the E-Commerce Times.