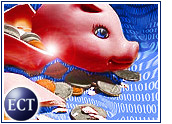 Exodus Communications (Nasdaq: EXDS) fell 75 U.S. cents to $9.37 in morning trading Wednesday, after the Web hosting company said it will cut about 15 percent of its 4,500 employees as part of a plan to reduce costs.
The plan will result in a charge of "less than $10 million" to results for the current quarter, Exodus said.
The Santa Clara, California-based company said in April that it was looking for ways to reduce expenses. At the same time, Exodus reported a first-quarter net loss of $649.6 million, or $1.21 per share, compared with a loss of $68 million, or 19 cents, in the same period last year. Revenue for the quarter rose 163 percent from a year earlier, to $348.7 million.
Chief financial officer Dick Stoltz said the job cuts will "not affect our ability to serve our current customers or our ability to attract and serve new customers with the high quality of service and security customers have come to expect from Exodus."
In fact, the company said it plans to continue its expansion with the opening next week of an Internet data center in Paris, France. Last month, Exodus opened data centers in Dallas, Texas, and Amsterdam, the Netherlands.
"Our goal with these efforts is to ensure we have the right people in the right places," said Stoltz. "We believe these actions will strengthen our competitive position in the marketplace."
Stoltz took over as CFO April 30th, when R. Marshall Case resigned "for personal reasons." The company said Stoltz, who had been CFO and chief operating officer from October 1995 until January 2000, would handle day-to-day financial operations on a temporary basis while a replacement was sought. Stoltz had been a senior adviser to Exodus management.