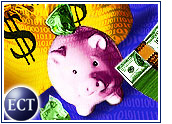 Broadband Internet service provider Excite@Home (Nasdaq: ATHM) announced Monday that it has raised US$100 million through the sale of five-year convertible secured notes.
Purchasers of the notes, which bear no interest, can convert them at any time into Excite@Home Series A common stock at $4.38, a 10 percent premium over Friday's weighted average trading price.
The stocks can also be redeemed by holders on the anniversary of their date of issue or by Excite@Home on the second, third and fourth anniversaries of the date of issue.
The company said that the proceeds from the notes would be "used for general corporate purposes."
In early trading Monday, Redwood City, California-based Excite@Home fell 38 cents to $3.54. The company's 52-week high came 50 weeks ago, when the stock traded at $23. Excite@Home's market capitalization totaled $1.43 billion.
Closing Up Shop
Excite@Home is raising funds to improve its bottom line while at the same time it is taking steps to cut costs. Last week, the company announced it was closing its media operations in France, Germany and Spain.
Additionally, several Excite-branded sites, operated from the company's European headquarters in London and directed at other European markets, will shut down. The closures are expected to take place during July.
"While it is disappointing that market conditions make it necessary to discontinue certain European businesses, it is important for us to continue to focus more closely on our strengths," Excite@Home chairman and chief executive officer Patti S. Hart said.
Cuts Abroad
The company said the closures were the "result of a weakened Internet advertising environment and its negative effect on the timeframe for ultimate profitability of Excite@Home's media businesses in Germany, France, Spain and smaller European markets."
According to published reports, the closures will result in the loss of 85 jobs, or about 60 percent of the personnel in Excite@Home's media operations in Europe, excluding Italy. In April, the company announced it was slashing 380 jobs, or 13 percent of its workforce.
Focus on UK and Italy
Excite@Home says it intends to focus its attention in Europe on its investments in Britain and Italy, markets that the company says "continue to have positive growth prospects."
Said Evan Rudowski, managing director of Excite Europe: "We have every intention of ensuring that our Excite businesses in the UK and Italy continue to receive support consistent with their market positions and secure financial status."
Excite@Home holds a 58 percent stake in Excite UK, a joint venture with British Telecommunications, and a 30 percent interest in Excite Italia, a joint venture with Tiscali.
Excite@Home also disclosed in a U.S. Securities and Exchange Commission (SEC) filing dated Friday that its board of directors had approved a change in accounting firms from Ernst & Young to PricewaterhouseCoopers. The change, which was approved May 30th by Excite@Home's board of directors, is subject to stockholder approval.