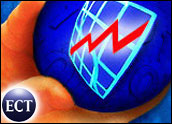 BEA Systems, Inc. (Nasdaq: BEAS) gained 115/16 to 73 5/16 Tuesday after the company, which makes e-businesssoftware, said Business Europe will use its WebLogic server to deliver news,advice, online forums and e-commerce marketplaces to businesses in Europe.
Business Europe provides its customers, European small and medium-sizedbusinesses, with such services as news analysis and online marketplaces. Thecompany has a potential market of 18 million businesses.
Financial terms of the agreement were not disclosed.
"BEA technology is important inallowing us to deploy our systems and applications quickly and effectively,exceeding anything the competition could have delivered," said BusinessEurope chief technology officer Doug Winter.
Credit Suisse First Boston reportedly reiterated a buy recommendation on BEAshares following the news, putting a 12-month price target of 85 on thestock.
BEA, based in San Jose, California, last month reportedthird-quarter results that beat analysts' expectations. Chairman andchief executive officer Bill Coleman attributed the improvement to growth inlicense fees as more companies convert their operations to the Internet.
During the quarter, the company said it signed agreements with companiesincluding Aetna, Ameritrade, AOL/Time Warner, Cisco Systems, and Visa, andexpanded existing relationships with such vendors as Ariba, Open Market andGenuity.
BEA shares are also doing better than those of many technology companies.The stock reached a 52-week high of 89 1/2 in October, and is trading wellabove its year low of 25 1/2, seen in April.